Accomodation
Not Included
Best month
Jan - Mid June and Mid Sept - Dec
UNESCO Cultural Heritage Sightseeing in Kathmandu
The cultural heritage of the Kathmandu Valley is shown by several monuments and buildings which show the full range of historic, traditional, and artistic achievements which are registered in the list of UNESCO world heritage sites for which the Kathmandu Valley is well known throughout the world. In this tour you will visit some UNESCO cultural heritages listed below-:
Pashupatinath Temple: Pashupatinath Temple, one of the most sacred Hindu temples of Nepal, is one of the popular destinations. It is situated on the two banks of the Bagmati River on the eastern outskirts of Kathmandu. In case you are attracted to places where there are rich cultural values and attractions, then, think about Pashupatinath as your first destination. Just Hindus are permitted to enter the main temple complex, however, non-Hindus can explore any parts of the complex. From the Eastern bank of the river, the main temple can be found in its whole magnificence. It stands 23.6 meters over the ground and it is a square, two-tiered pagoda temple built on a single-tier plinth, which is famous all over the world.
Boudhanath Stupa: Boudhanath also called Boudha is one of the holiest Buddhist stupas, towering over the surrounding town as a giant mandala of peace and beauty in Kathmandu, Nepal. The huge meditative monument dates from 600AD are said to have been created just after the passing of the Buddha and was built by a Tibetan king. Boudha is a spiritual and awe-inspiring space and furthermore one of the holiest Buddhist pilgrimage sites which signify Buddhist culture, lifestyle, and tradition. Hence, Boudhanath Stupa is a must-visit site for travelers.
Sowambhunath Stupa: Swayambhunath Stupa, a UNESCO world legacy site in Kathmandu, is the glory of Kathmandu since the fifth century and a sacred Buddhist pilgrimage. Overlooking Kathmandu valley and offering magnificent panoramic views of Kathmandu valley, Sowambhunath Stupa is a perfect spot to get away from the hustle and bustle of Kathmandu. Settled on top of the slope, Swayambhunath also known as "Monkey Temple" is really a must-visit place in Kathmandu, as recommended by a large number of travelers. Some of the prominent monuments in Swayambhunath include the colossal gold-plated Vajra 'thunderclap' in the east, the Buddha statue on the western side, sculpture of the resting Buddha, noted for a bronze symbol of Buddha, the Dewa Dharma monastery and cultural Tibetan paintings, and the temple devoted to Harati, the goddess of children. Swayambhunath is the best place to see religious harmony in Nepal and should not be missed out on when you trip to Kathmandu.
Check our Nepal Tour package here!
---
5%
OFF
USD95pp
Why Choose Us?
Local Company
Highly Experienced Team
Cost Effective & Affordable
Flexible & Customizable Trips
Authentic & Rewarding Experience
UNESCO Cultural Heritage Sightseeing in Kathmandu Outline Itinerary
---
UNESCO Cultural Heritage Sightseeing in Kathmandu Detail Itinerary

Expand All

DAY 1: Drive to Soyambhunath Stupa from the hotel after Breakfast

1st Visit: Sowambhunath Stupa
2nd Visit: Boudhanath Stupa
3rd Visit: Pasupatinath Temple and drive back to hotel

---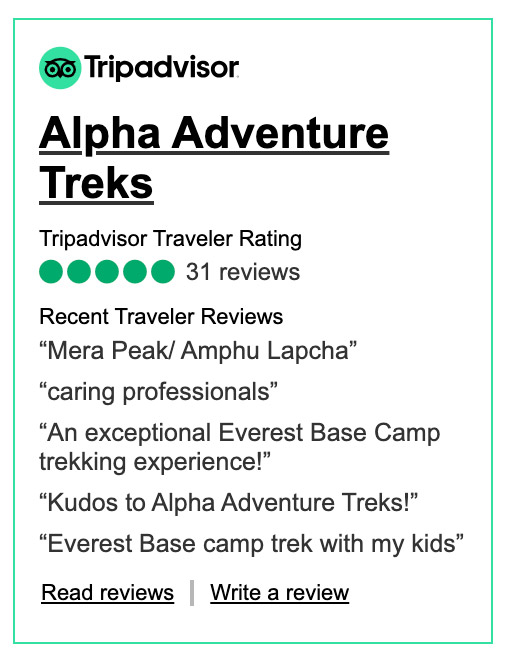 ---
What's Included?
Ground Transportation: Private vehicle transfer for pick up/drop off from/to the hotel
One experienced tour guide
Private vehicle transportation service for entire sightseeing program

---
What's Not Included ?
Meals during the trip.
Monuments entry fees for sightseeing in Kathmandu.
Any other expenses or charges that are not mentioned in "cost includes" list

---
Useful Information
PASSPORT AND VISA:
All the foreign nationals (except Indian nationals) are required to display Visa while entering Nepal. Nepalese Visa can be obtained either at the Nepalese Embassy of the respective country or can be obtained during your arrival at the International Airport in Kathmandu or from Nepal's border entry point in Kakadvitta, Birgunj, Bhairahawa, Nepalgunj, Gaddachowki on the Nepal-India border and Kodari on the Nepal-China border.
Certain nationals are requested to arrange Visa prior to arrival in Nepal. The listed countries are- Afghanistan, Iraq, Cameroon, Ghana, Somalia, Swaziland, Palestine, Zimbabwe, Nigeria, Ethiopia and Liberia and cannot secure Nepalese Visa on arrival.
VISA FACILITY DURATION FEES
Multiple Entry 15 Days US$ 75 or equivalent convertible currency
Multiple Entry 30 Days US$ 90 or equivalent convertible currency
Multiple Entry 90 Days US$ 150 or equivalent convertible currency
You can also download the VISA form and fill it up. Please go through the link as below: http://www.online.nepalimmigration.gov.np/tourist-visa
MONEY & CREDIT CARD INFO
Most of the credit card, master and visa card is blocked from your card provider. It may be because of a security reason. It, sometimes, may bring you in a problematic situation that you can't get money from ATMs. To find yourself free from this problem, you can call your card provider before you travel to Nepal and inform there that you are traveling to Nepal. Ensure them to give the authorization for the payment. Be sure you have brought some small amount for your daily expenses as well as for those items which are not included in our cost. If you want to exchange money, we provide you with the facility to change your money. Or, you can take help from Money Changers in Thamel.
TRAVEL INSURANCE:
While traveling to Nepal, you are requested to have travel insurance that should cover any comprehensive expenses possible to acquire due to medical issues or accidents. Especially, your travel insurance must protect air ambulance, treatment charges, rescue and evacuation, product cancellation and refundable charges, flight delay, and cancellations.
Insurance Policy:
Traveling in the Himalayas is full of adventurous; hence it is wise to choose a proper insurance policy. While choosing your insurance policy, make sure that it will protect all such unforeseen expenses. You must ensure that the policy you do take provides an adequate level of protection, well familiar with your itinerary and covers you for the activities involved. You must carry proof of insurance (e.g. your insurance certificate) with you on the holiday or send us a scanned copy and it must be issued from your homeland.
RECOMMENDATION:
1. World Nomads
https://www.worldnomads.com/
NOTE:
Please, kindly note, these given references of the insurance company above is only a recommendation, which based on the recommendation of our previous travelers. You could review their update insurance policy by contacting them directly.
VACCINATION FOR NEPAL
Travelers should consult with their physician or update on vaccination requirements before travel. (Your doctor or the health-care provider will determine what you will need, depending on factors such as your health and immunization history, areas of the country you will be visiting, and planned activities). For traveling to Nepal, we recommend you to take vaccination of Polio, Tetanus, Typhoid, Hepatitis A, Hepatitis B, Rabies, etc. However, it is not mandatory but recommended.
ALTITUDE SICKNESS (ACUTE MOUNTAIN SICKNESS)
Altitude sickness, also known as AMS (acute mountain sickness), is caused by a lack of oxygen at high altitudes (normally above 3,000m). It occurs as the result of our bodies' inability to adapt to a sudden increase in altitude. If given time, our bodies will adjust and a gradual ascent will decrease the possibility of altitude sickness.
PREVENTION OF AMS: Go slowly, drink a lot of water, and pay attention to the sensations of your body. If symptoms occur you have climbed too far for the day. Rest at the same altitude will give you time to acclimatize and usually relieve mild symptoms.
MILD SYMPTOMS: Headache, nausea, loss of appetite, and mild shortness of breath with minimal exertion, difficulty sleeping, dizziness or lightheadedness, mild weakness, fatigue, a general unwell feeling.
SERIOUS SYMPTOMS: The inability to recover from shortness of breath with rest, severe persistent headache, low urine output, vomiting, confusion, delirium, loss of coordination. These require immediate descent as acclimatization will not take place at the same altitude.
The key is to trek slowly, carry a light pack and just take it easy. Allow your body the time it needs to acclimatize.
ARRIVAL INSTRUCTION
Upon your arrival at TIA International Airport, our company's representatives are stationed to pick you up. They will be holding your name sign along with the company's name in it. Our office representative will escort you to your hotel in Kathmandu.
---
For any queries !
Please use the below address to call us or mail us
---
UNESCO Cultural Heritage Sightseeing in Kathmandu Departure dates and price
Given below are the departure dates available for online booking. If the given date is not favorable then please contact us and we will happily customize your trip on dates more appropriate for you.
---
Route Map
---
Reviews
Highly Recommended !!!
A terrific experience with a knowledgable and articulate guide who will take you on a comfortable and detailed tour of the attractions. The guide did not rush us or put us under any strain at any of the four stops. It was unquestionably the highlight of our trip to Kathmandu. Strongly suggested!!
- Robert Jr. (
)
Himalaya without the pesky walking!
Beautiful tourist spot on the outskirts of Kathmandu with views of the Himalaya from Annapurna to Sagarmatha. For the best chance of clear skies, go early in the morning. A cable car trip provides spectacular views of Kathmandu.
- Chris D. (
)
Best Short Tour of my Life !!!
Alpha Adventure Treks provided the best and most professional service. We went on a Kathmandu and Pokhara tour with them in March 2020, and they had excellent hotels in both Kathmandu and Pokhara. The driver was courteous and helpful, and all pickups and drops were completed on schedule. Alpha Adventures is a game that I recommend to everyone.
- Alvin G. (
)
5%
OFF
USD95pp
Why Choose Us?
Local Company
Highly Experienced Team
Cost Effective & Affordable
Flexible & Customizable Trips
Authentic & Rewarding Experience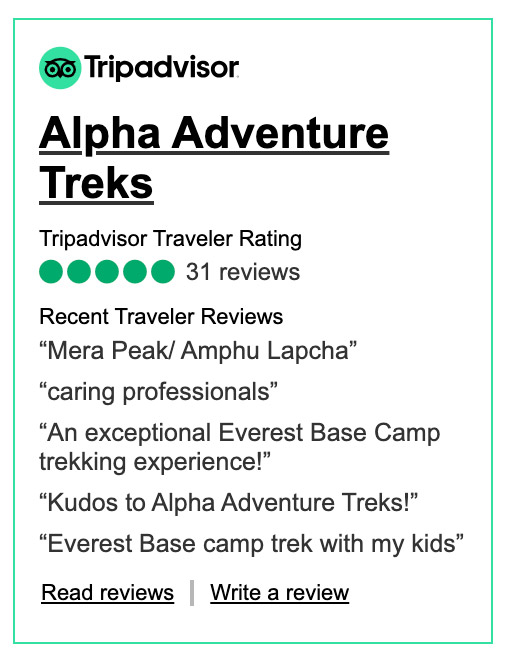 For any queries !
Please use the below address to call us or mail us