Max Elevation
4,344 feet (1,324 metres)
Accomodation
3 Star Hotel
Best month
All year Around
Best of kathmandu and Patan Day Tour
Experience the enchanting wonders of Nepal with a Kathmandu and Patan tour. Dive into the heart of Kathmandu, a city that blends ancient traditions with modern vibrancy. Begin your adventure at the iconic Swayambhunath Stupa, where you'll be captivated by the spiritual ambiance and breathtaking views of Kathmandu Valley. Continue to Kathmandu Durbar Square, a UNESCO World Heritage Site, where history comes alive through the intricate architecture of palaces and temples. Marvel at the Kumari Chowk, home to the Living Goddess Kumari, and witness the rich cultural heritage on display. Next, venture to Pashupatinath Temple, a revered Hindu pilgrimage site, where you'll witness profound religious rituals and the sacred Bagmati River flowing beside it. Take in the mesmerizing scenes of devotion and spirituality.
In Patan, also known as Lalitpur, immerse yourself in the artistic splendor of the city. Explore Patan Durbar Square, adorned with ancient palaces and temples. Admire the exquisite craftsmanship of the Krishna Mandir, a testament to the city's architectural brilliance. Delve into the cultural treasures at the Patan Museum, where ancient artifacts and art pieces offer a glimpse into the region's rich history. Stroll through Patan's narrow lanes, witnessing local life and discovering hidden gems in the form of traditional handicrafts and textiles. As the day draws to a close, embrace the tranquility of Patan from a viewpoint, allowing the city's beauty to unfold before your eyes.
With this Kathmandu and Patan tour, you'll witness the sacred, the historical, and the artistic, all within a single day. It's an opportunity to immerse yourself in the cultural tapestry of Nepal and create unforgettable memories.
---
5%
OFF
Why Choose Us?
Local Company
Highly Experienced Team
Cost Effective & Affordable
Flexible & Customizable Trips
Authentic & Rewarding Experience
Best of kathmandu and Patan Day Tour Outline Itinerary
---
Best of kathmandu and Patan Day Tour Detail Itinerary

Expand All

Day 01: Kathmandu and Patan Sightseeing

Morning:
Start your day by visiting the iconic Swayambhunath Stupa, also known as the Monkey Temple. Enjoy panoramic views of Kathmandu Valley from the top and explore the temple complex.
Head to Kathmandu Durbar Square, a UNESCO World Heritage Site. Marvel at the ancient palaces, temples, and intricately carved wooden architecture. Don't miss the Kumari Chowk, the residence of the Living Goddess Kumari.
Mid-Morning:
Drive to the holy Pashupatinath Temple, dedicated to Lord Shiva. Witness the religious rituals, cremation ghats, and the vibrant atmosphere around the temple. Take a walk along the Bagmati River.
Enjoy a traditional Nepali lunch at a local restaurant. Savor authentic dishes like dal bhat (rice and lentils), momo (dumplings), and Newari cuisine.
Afternoon:
Leave for Patan, also known as Lalitpur, located a few kilometers from Kathmandu. Explore Patan Durbar Square, another UNESCO World Heritage Site. Admire the medieval palaces, temples, and the famous Krishna Mandir, a masterpiece of stone architecture.
Visit the Patan Museum, housed in an ancient palace. Discover a vast collection of art, sculptures, and artifacts showcasing the rich cultural heritage of the Kathmandu Valley.
Evening:
Take a leisurely stroll through Patan's narrow lanes and witness the local way of life. Visit local handicraft shops and browse for souvenirs like metalwork, woodcarvings, and traditional textiles.
End your day by enjoying a sunset view from the Patan viewpoint, overlooking the city's beautiful skyline.
---
---
What's Included?
Hotel
Sightseeing
Accommodation on twin sharing basis with breakfast at Hotel
Both way Airport Transfers,
Full-day sightseeing in Kathmandu and Patan
Transportation of Kathmandu-Patan-Kathmandu.
---
What's Not Included ?
Your personal expenses for mineral water, soft beverages, confectionaries, laundries, phone calls, hot drinking water, bar bills showers ,etc.
Entrance Feees
Internet facility, battery chargers, multi plugs
Medical expenses and trip cancellation.
Any other extended trips and accommodation.
Tips for the guides, porters, and driver as a token of appreciation.
Any other expenses or charges that are not mentioned in the "cost includes" list.
Nepal arrival visa
---
Useful Information
Here is some useful information to make your Kathmandu and Patan day tour more convenient and enjoyable:
Transportation: Hire a private vehicle or taxi for the day to navigate between the various attractions in Kathmandu and Patan. Alternatively, you can also opt for local public transportation like buses or rickshaws, but be prepared for crowded conditions and potential delays.

Timing: Start your day early to make the most of your time and avoid peak tourist hours. Many attractions open around 8:00 AM, so aim to reach your first destination around that time. Keep in mind that some temples and museums may have specific closing times in the late afternoon.

Attire: As you'll be visiting religious sites, it's advisable to dress modestly and respectfully. Ensure your shoulders and knees are covered. Comfortable walking shoes are recommended, as you'll be exploring various historical sites.

Entrance Fees: Some attractions in Kathmandu and Patan require an entrance fee. Carry local currency (Nepalese Rupees) in small denominations to pay for tickets. It's a good idea to carry some extra cash for souvenirs, snacks, and incidentals.

Guides: Consider hiring a local guide or joining a guided tour to gain a deeper understanding of the cultural and historical significance of the sites you'll be visiting. A knowledgeable guide can provide insights and stories that enhance your experience.

Photography: Most attractions allow photography, but be mindful of any signage or instructions prohibiting photography in specific areas. Always ask for permission before taking pictures of people, especially in religious sites.

Food and Refreshments: Carry a bottle of water to stay hydrated throughout the day. You'll find several local eateries and restaurants near the major attractions, offering a variety of Nepali and international cuisines. Don't miss the chance to try traditional Nepali dishes like momo, dal bhat, and Newari cuisine.

Weather: Check the weather forecast before your tour and dress accordingly. Kathmandu's climate can vary, so carry a light jacket or shawl as the weather can be cooler, especially in the mornings and evenings.

Safety: Take basic precautions like keeping your belongings secure and being mindful of your surroundings. Follow any safety guidelines provided by the authorities or attraction staff

Local Customs: Respect the local customs and traditions. Remove your shoes before entering religious sites and be mindful of your behavior and actions to ensure a harmonious experience.
Remember to plan your itinerary based on your interests and pace. It's always a good idea to have a backup plan in case of unexpected closures or changes in the schedule. Enjoy your Kathmandu and Patan day tour, and embrace the rich heritage and cultural treasures of Nepal!
---
For any queries !
Please use the below address to call us or mail us
---
Best of kathmandu and Patan Day Tour Departure dates and price
Given below are the departure dates available for online booking. If the given date is not favorable then please contact us and we will happily customize your trip on dates more appropriate for you.
| Start Date | Trip Cost | Availability | Booking |
| --- | --- | --- | --- |
| Start Date | Trip Cost | Availability | Booking |
| --- | --- | --- | --- |
---
Route Map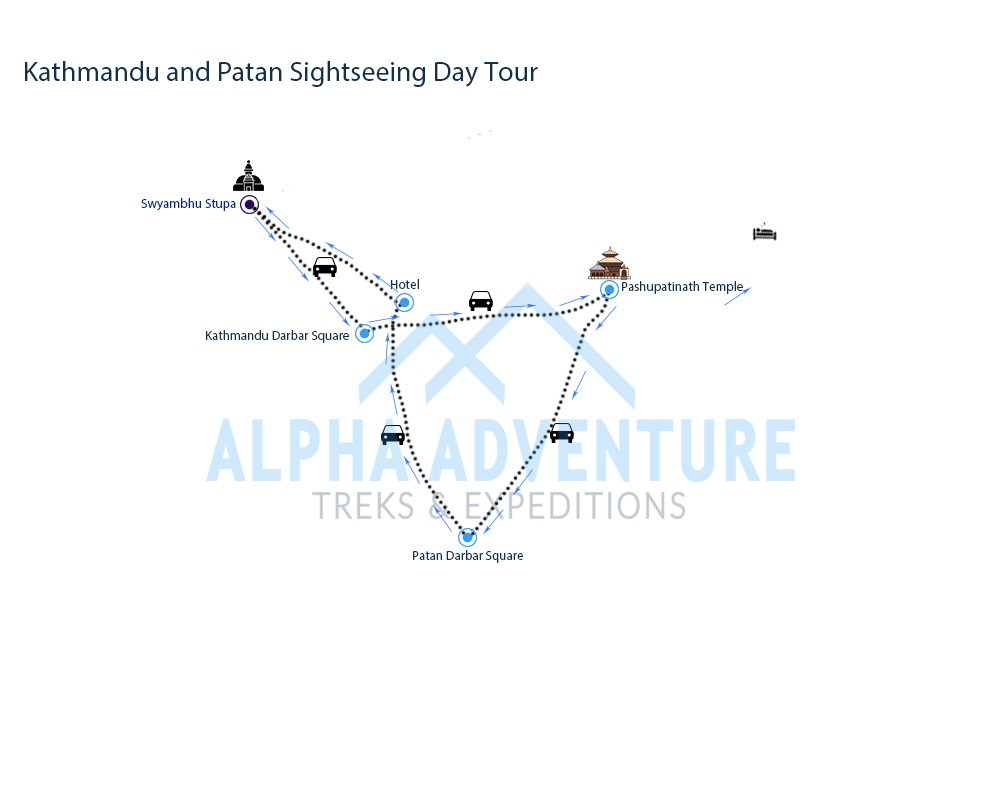 ---
Reviews
A most memorable adventure in Nepal
Joey, our Kathmandu contact, was wonderful from our home in Australia!
He was always willing to assist us with our (many) queries throughout the road. We couldn't be happier with everything that was provided, from the accommodations and schedule to connecting us with a city tour and our incredible trekking guide.
- Tim A. (
)
Great Trip to Nepal
I recently had the most amazing experience touring Nepal with Alpha Adventure Treks. From start to finish, their team provided exceptional service and made sure our trip was unforgettable. The itinerary was well-planned, allowing us to explore the best of Nepal's stunning landscapes and cultural heritage. The knowledgeable guides shared fascinating insights about the history, traditions, and local customs. The accommodations were comfortable, and the food provided was delicious. Whether we were trekking in the Himalayas or visiting ancient temples in Kathmandu, every moment was filled with awe and wonder. I highly recommend Alpha Adventure Treks for anyone looking to have a truly immersive and memorable Nepal tour.
- James C. (
)
5%
OFF
Why Choose Us?
Local Company
Highly Experienced Team
Cost Effective & Affordable
Flexible & Customizable Trips
Authentic & Rewarding Experience
For any queries !
Please use the below address to call us or mail us