Fitness Level
Demanding & Challenging
Max Elevation
6812m / 22,349ft
Accomodation
Hotel, Tea House /Camping
Best month
Spring (March- June) / Autumn (October- November)
Ama Dablam Expedition
The world's tallest mountain, Mount Ama Dablam, stands at 6,812 meters (22,349 feet) and is situated in Nepal, only 20 miles (40 kilometers) from Mount Everest. Members of the Ama Dablam trip have the chance to scale moderately difficult-but-very-climbable snow, ice, and rock amidst breathtaking Himalayan panoramas. Ama Dablam is one of the few mountains in the world with such a stunning and recognized silhouette. Despite not being as tall as Mount Everest, it commands respect and is very well-liked by tourists and mountaineers. The Tibetans and Sherpa people who reside around the mountain are equally enamored by its beauty, and it was they who gave the mountain its name, which roughly translates to "Mother's gem."
The thrilling trek to Ama Dablam Base Camp passes over the Tengboche monastery through the Sherpa country. Following the original line of ascent on the South West Ridge, the way to Ama Dablam base camp diverges from the well-traveled route to Everest Base Camp. As you get closer to Ama Dablam's summit, the rocky trail gets progressively snowier. With enough rock, snow, and ice to make it an intriguing climb, we continue the initial course of ascent through the southwest ridge, which is technically demanding (fairly) in normal conditions.
---
5%
OFF
USD5500pp
Why Choose Us?
Local Company
Highly Experienced Team
Cost Effective & Affordable
Flexible & Customizable Trips
Authentic & Rewarding Experience
Ama Dablam Expedition Outline Itinerary
Day 01:
Arrival at Kathmandu
Day 02:
Trek Preparation
Day 03:
Fly from Kathmandu to Lukla & Trek to Phakding | Altitude: 2,610m/8,561 ft | Trek: 3-4 Hrs
Day 04:
Trek from Phakding to Namche Bazar| Altitude: 3,440 m/11,284 ft | Trek: 6-7 Hrs
Day 05:
Acclimatization Day
Day 06:
Trek from Namche Bazar to Tengboche | Altitude: 3,864m/12,677 ft | Trek: 5-6 Hrs
Day 07:
Trek from Tengboche to Ama Dablam Base Camp | Altitude: 4,570m/14,989 ft | Trek: 5-6 Hrs
Day 08-22:
Climbing Ama Dablam Peak
Day 23:
Trek back to Namche Bazar
Day 24:
Trek back from Namche to Lukla
Day 25:
Fly Back to Kathmandu
Day 26:
Departure
---
Ama Dablam Expedition Detail Itinerary

Expand All

Day 01: Arrival in Kathmandu

A thrilling and memorable experience in and of itself, traveling to Kathmandu. The snow-capped, towering summits will be visible from all angles on a clear day. Take your luggage down to the ground floor after finishing the airport visa procedures. You will be greeted by a member of our staff bearing your name on the signboard for our business, Alpha Adventure Treks & Expedition, as you leave the airport terminal. After that, our private tourist vehicle will transport you to your hotel. The hotel staff will greet you when you arrive, and you may then unwind in your room.

Day 02: Trek Preparation

We have a pre-trip meeting at your hotel in Kathmandu today after breakfast at around 8 a.m. to present your trek leader/guide. Please take advantage of this chance to inquire about your adventure. We will also give you a cap and our journey luggage bag. Please bring your passport, three copies of passport-size pictures, and a legible copy of your travel insurance policy to the conference. Please pay any outstanding balance at this meeting and sign the legally binding trip form and the non-liability declaration. After the meeting, you shall take a sightseeing tour of major cultural heritage sites in Kathmandu.
Meal: Breakfast

Day 03: Fly from Kathmandu to Lukla & Trek to Phakding | Altitude: 2,610m/8,561 ft | Trek: 3-4 Hrs

We head to the airport early in the morning for an incredible flight to the Sherpa settlement of Lukla (2800m). We can stroll down the gravel route that leaves Lukla's terraces of the forest after lunch. This immediately leads us into the Dudh Koshi Valley, often known as the "river of milk," and the vibrantly painted lodges of Phakding (2610m). Beautiful views of Kusum Kanguru's North Face may be seen from here (6367m). Stone walls with colorfully painted accents line the trail. You must pass these in a clockwise orientation out of respect for the Buddhists who consider them sacred.
Meal: Breakfast, Lunch, and Dinner

Day 04: Trek from Phakding to Namche Bazar| Altitude: 3,440 m/11,284 ft | Trek: 6-7 Hrs

After a pleasant morning, the walk continues across bridges over the Dudh Kosi River, passing through a number of interesting villages, including Toc-Toc, Bhenkar, and Monjo, before arriving at the Sagarmatha National Park entrance gate. From here, walk along the riverbed for a few hours before climbing steeply uphill to Namche Bazaar, where there are good restaurants, bars, cybercafés, post offices, and banks.
Meal: Breakfast, Lunch, and Dinner

Day 05: Acclimatization Day

Before climbing further, it is crucial to spend a few nights and enjoy a day of rest in Namche. You may spend the day relaxing and exploring the winding alleyways of this bustling Sherpa city, taking short excursions up to Thami or Khumjung, or viewing the overlooks of Everest, Ama Dablam, and Pumori.
Meal: Breakfast, Lunch, and Dinner

Day 06: Trek from Namche Bazar to Tengboche | Altitude: 3,864m/12,677 ft | Trek: 5-6 Hrs

With breathtaking mountain views, the trip continues along the Dudh Kosi's raging glacial waters. By the time we get to Tengboche, we will have hiked up to an elevation of 3,860 m. A 20-foot-tall statue of Buddha, extraordinarily beautiful wall hangings, as well as the Lamas' musical gear and robes, may all be found inside the monastery. Depending on how this day's hiking goes, the party will be escorted to witness a prayer ceremony either in the morning or the evening.
Meal: Breakfast, Lunch, and Dinner

Day 07: Trek from Tengboche to Ama Dablam Base Camp | Altitude: 4,570m/14,989 ft | Trek: 5-6 Hrs

The trail today dips through a lovely woodland before crossing the Imja Khola and passing into Pangboche. The path continues through yak grazing farms in the summer to the stunning Ama Dablam Base Camp.
Meal: Breakfast, Lunch, and Dinner

Day 08-22: Climbing Ama Dablam Peak

Based on climbers' needs and their own experience, guides will use a flexible approach. Before ascending above base camp, the team usually spends a few days there organizing food, honing their rope abilities, and acclimatizing. As part of any acclimatization plan, it is typical to "tag," or spend at least one night in Camp 1 (5700m), before going back to base camp, resting, and getting ready for a summit push. climbing Ama Dablam using the southwest ridge After leaving the base camp, ancient grassy moraine ridges are approximately followed eastward to a wide saddle, from where we can view the Mingbo La at a distance of 5150 meters. We comfortably climb northward from the saddle until the ground steepens at the beginning of a sizable boulder field. At a height of 5400 meters below the boulder field, we might set up an advanced base camp. The path continues north, skirting the boulder field's base, before ascending via cairns to the southwest ridge's toe. The ridge itself can be reached in an extremely exposed position after slabs are crossed at the end of the boulder field and a small gully is then ascended. Camp 1 is reachable with some simple scrambling on the ridge's eastern side. There are four to five platforms for tents. We curve around the snowy basin from Camp 1 (or a potential alternate location for Camp 1) until we are beneath two rock fingers. The path continues along the ridge's crest for a little way before forcing us to walk on the west side of the ridge with an unpleasant step. The ridge's summit is once again reached, and from there, easily traced pathways lead to the beginning of a traverse on the east face that leads to the Yellow Tower. One of the hardest pitches on the climb at the HVS (5.8) level is this 15-meter pitch, which is located right beyond Camp 2. Camp 2 is now reached by a brief ridge stretch (5900m). Camp 2 is fairly exposed and has a very small amount of tent space (three or four tent platforms). Sometimes expeditions choose to move directly from Camp 1 to Camp 3 and solely use it to store equipment dumps. Following the snow ridge directly to a challenging east traverse, the climb leaves Camp 2 by skirting a red rock bluff on the east. Between the Grey Tower and the lower rock buttress, this leads to a gully. We ascend the gully until we get to an extremely exposed traverse path on the west side of the ridge. We climb a short snow slope to get to the beginning of Mushroom Ridge. After that, getting to Camp 3 (6300m) usually includes navigating some steep snow portions. The path ascends the snow and ice slope directly above Camp 3 and to Dablam's right. We proceed to skirt Dablam on the right as we move west to obtain access to a tiny snowfield that is located beneath the Bergschrund. The climb then continues directly to the ice peak above after passing over the Bergschrund. An impressive ascent to the peak follows this. Each camp will be equipped with high-quality camping tents.
Meal: Breakfast, Lunch, and Dinner

Day 23: Trek back to Namche Bazar

Meal: Breakfast, Lunch, and Dinner

Day 24: Trek back to Lukla

Meal: Breakfast, Lunch, and Dinner

Day 25: Fly Back to Kathmandu

Meal: Breakfast

Day 26: Departure Day

Meal: Breakfast
---
What's Included?
All Airport Pick up and final departures as per the itinerary.
2 Nights 5 Star stay in Kathmandu.
All essential ground transportation by Private Vehicle – as mentioned in Itinerary
Kathmandu – Lukla – Kathmandu flight
Climbing permit for mount Ama Dablam expedition
Required Trekking permits and National Park fees.
Tea House accommodation during pre-climbing & Post- Climbing journey and Camping accommodation during climbing.
All meals – Breakfast, Lunch, and Dinner during the trekking and climbing period
Trekking Guide and well-experienced climbing guide
Required number of porters, and kitchen staff for camping
All essential camping equipment – Dining tent, toilet tent, store tent, table – chair for
Normal medical box.
Expedition
Liaison officer
All staffs salary, food, clothing, and insurance
All essential climbing gears
Emergency oxygen mask & regulator (need to pay as per usage)
Solar panel for battery charging & lighting in base camp
Satellite Phone (Need to pay as per usage per minute)
Welcome and farewell dinner in Kathmandu
All applicable TAX, VAT, and necessary paperwork
---
What's Not Included ?
Personal Climbing gear
Your climbing insurance
Bar and Beverage bills
All personal nature expenses
TIPS for staffs
Refundable garbage deposit
Extra night hotel in Kathmandu.
Sightseeing and activities in Kathmandu.
---
Useful Information
All of our scheduled departure dates are guaranteed! But if they don't work with your travel schedule, we will be happy to assist you in choosing another day! You may start planning your custom excursions right now, whether you're a solitary traveler, a couple, a family, or a group. For information on prices and other questions, kindly contact us.
---
Ama Dablam Expedition Departure dates and price
The given cost are per person and exclude international flights. Given below are the departure dates available for online booking. If the given date is not favorable then please contact us and we will happily customize your trip on dates more appropriate for you.
| Start Date | Trip Cost | Availability | Booking |
| --- | --- | --- | --- |
---
Route Map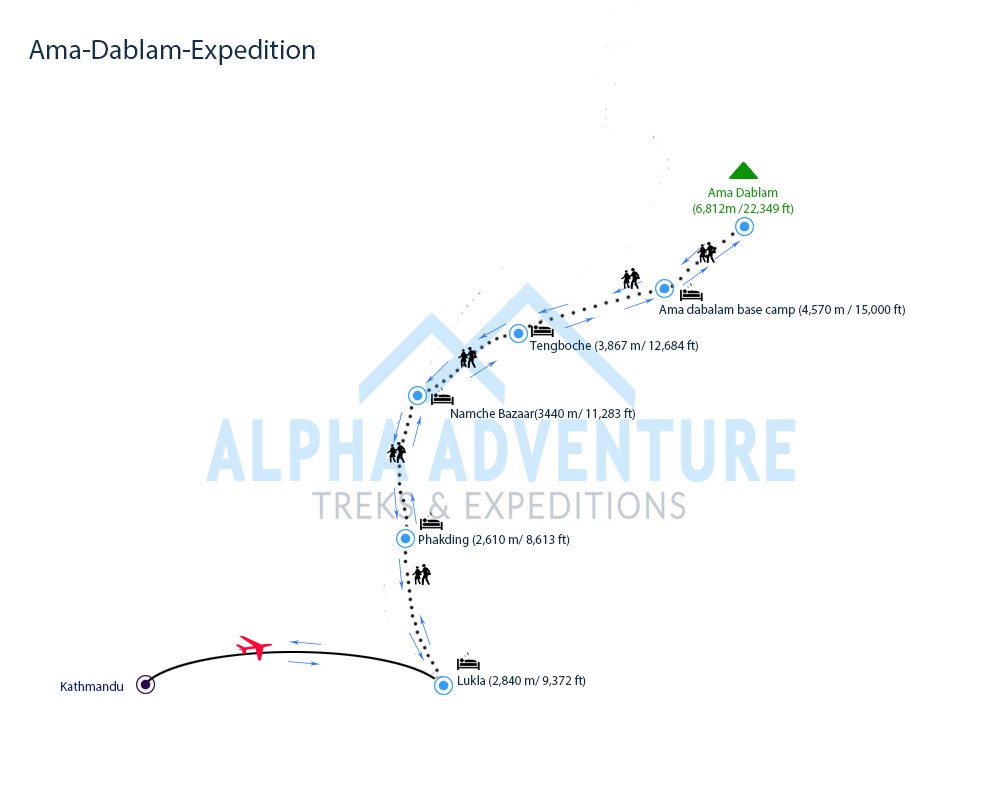 ---
Reviews
Had a great Experience
We took this expedition last year in the month of November and can't express how beautiful it was. Snow-covered peaks and mountains, beautiful teahouses, and tasty dishes prepared by the Sherpas. It was one of the best moments.
- Riyaj A. (
)
Definitely my next time trek company !!
It was my first trip with them going to Manaslu circuit Trek and was really nervous as i was travelling solo. After landing in kathmandu I was amazed with their hospitality and care towards me including the team I was going with, During the trek the guide was very kind and helpful. I am definitely traveling with them on my next trip to Nepal.
- Anthony II (
)
Excellent guide, landscape, and whole experience.
Our guided private trek was excellent. His English is great, and he is both friendly and humorous. We are both slow walkers, and he was extremely patient with us. We see him as a buddy after 12 days together. The journey is fantastic: the walking is strenuous, but you can order food from a vast menu and sleep in a luxurious bed every evening. This is a trek that I would strongly suggest to everyone.
- Vincent R. (
)
One of the greatest Expedition Ever
We were a group of 5 for this expedition and ended up joining another group from Lukla. The Expedition was the greatest experience ever. Ama Damblam Summit was something I can't forget this eternity.
- Corey T. (
)
5%
OFF
USD5500pp
Why Choose Us?
Local Company
Highly Experienced Team
Cost Effective & Affordable
Flexible & Customizable Trips
Authentic & Rewarding Experience
For any queries !
Please use the below address to call us or mail us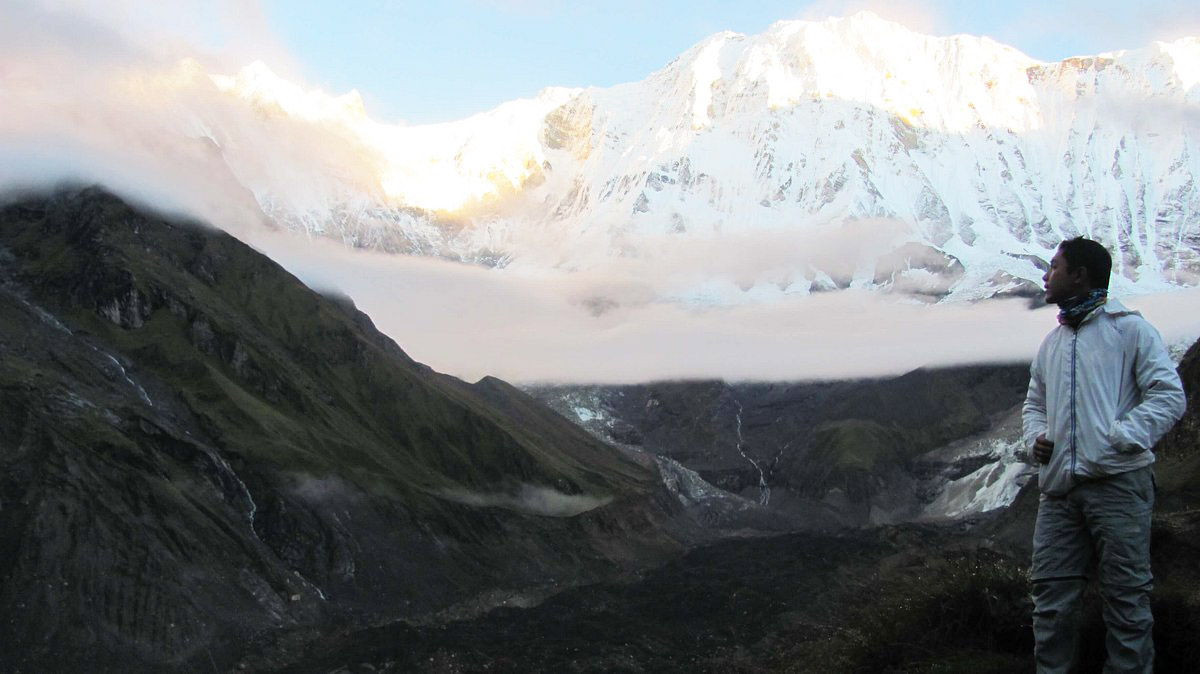 Enjoyed the experience to the fullest.
Went to Annapurna Base Camp and really loved this trek route. The mountains, hills, rivers, locals and livestock are still fresh in my memory. The route from Machapuchre base camp to Annapurna Base Camp was like a dream. And the base camp itself in between the massive Annapurna and Machapuchre was a surreal exprience. Thanks to Alpha Adventure Treks for managing everything with highest professionalism. Didn't have to worry about anything.
Mijal T
View All Reviews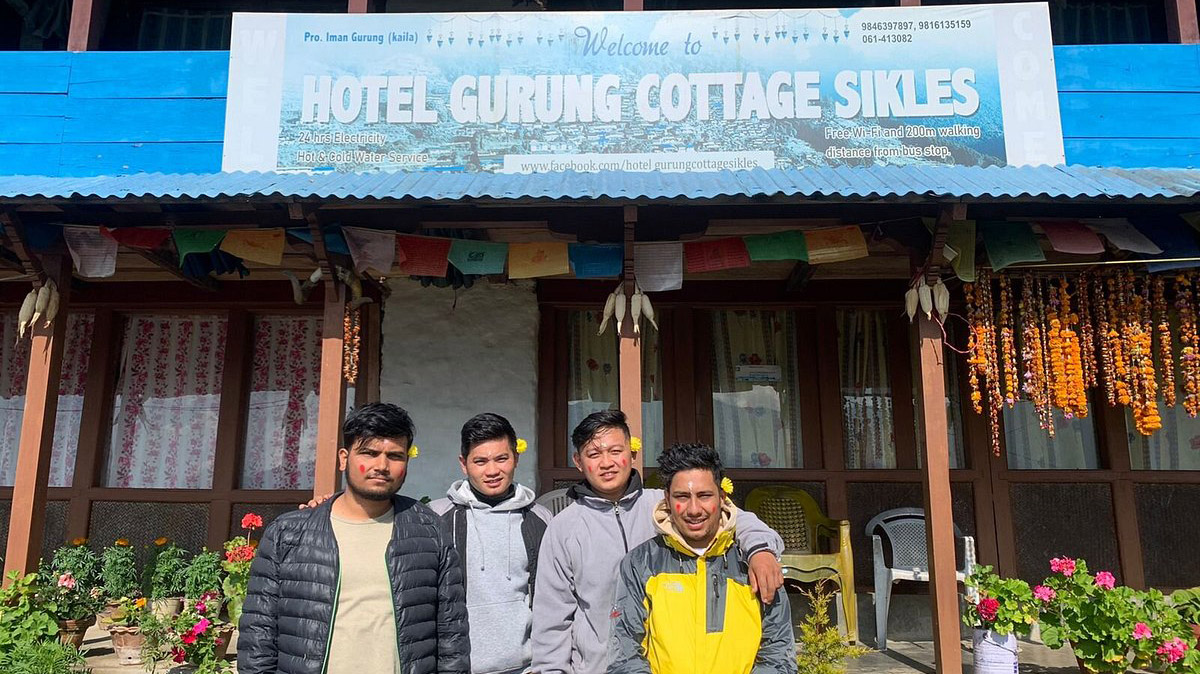 Great Trip.
It was a really amazing trek to kapuche lake, organized by this company. Everything was great: accommodation, food, etc. Especially worth mentioning purushottam who really helpful to us . He is a professional in his field and also a very cheerful and friendly person. He knows the route very well and is always ready to help. Thank you so much for organizing this trip!
Sushil K
View All Reviews