Max Elevation
Accomodation
Included in Cost
Best month
Spring (March- May) / Autumn (September- November)
Kathmandu and Pokhara Tour
The Kathmandu Pokhara tour is one of Nepal's best short getaways. The journey takes you across two gorgeous valleys, with strange mountain views in the distance. Pokhara is known for its breathtaking natural beauty, whereas Kathmandu is known for its rich culture and old cultural sites.
The most popular valleys on the southern Himalayan slopes are Kathmandu and Pokhara. While Kathmandu is Nepal's cultural capital, Pokhara, with three gorgeous lakes nearby, offers the greatest of Himalayan views. For people with limited time, the Kathmandu Pokhara tour is the ideal Nepal tour. Short treks or day walks from Kathmandu or Pokhara provide a better understanding of Nepalese rural life.
The journey could be tailored to last four days or longer. From both Kathmandu and Pokhara, adventure activities such as paragliding, bungee jumping, helicopter flights to base camps, and Everest sightseeing flights are available to see the Himalayas. The 6-day Nepal travel package includes sightseeing at UNESCO World Heritage Sites in and around Kathmandu, as well as a nature tour of Pokhara, with views of the dawn from Sarangkot and the sunset from the World Peace Pagoda.
---
5%
OFF
USD259pp
Why Choose Us?
Local Company
Highly Experienced Team
Cost Effective & Affordable
Flexible & Customizable Trips
Authentic & Rewarding Experience
Kathmandu and Pokhara Tour Outline Itinerary
| | |
| --- | --- |
| Day 01: | Arrive in KathmandubMeal: Breakfast |
| Day 02: | Kathmandu Sightseeing Meal: Breakfast |
| Day 03: | Drive to Pokhara | Pokhara Sightseeing | Drive:7-8 Hrs | Meal: Breakfast |
| Day 04: | Half-Day Sightseeing and Drive Back Meal: Breakfast |
| Day 05: | Kathmandu Sightseeing Meal: Breakfast |
| Day 06: | Departure Meal: Breakfast |
---
Kathmandu and Pokhara Tour Detail Itinerary

Expand All

Day 01: Arrival at Kathmandu.

When you arrive at Tribhuvan International Airport in Kathmandu, our airport agent will greet you. In a private vehicle, he will escort you to the appropriate hotel. Visit Pashupatinath temple in the evening for evening aarti.
Meal: Breakfast

Day 02: Kathmandu Sightseeing

Activities: Boudhanath Temple | Soyambhunath Temple | Everest Mountain Flight
In the morning, take a one-hour Everest Mountain flight. The tour guide will take you to Kathmandu's Heritage Sites. A simple, peaceful day in a luxury vehicle with a local guide will reveal a completely new perspective of Kathmandu. Boudhanath Stupa, Swyambhunath Stupa (Monkey Temple), and Kathmandu Durbar Square are all worth seeing.
Meal: Breakfast

Day 03: Drive to Pokhara | Half day Pokhara Sightseeing | Drive:7-8 Hrs |

Activities: Peace Pagoda | Devis Fall | Binda Basini Temple | Bat Cave | Mahendra Cave | Boating in Phewa Lake
We'll head to the airport after breakfast to catch a flight to Pokhara. The 25-minute flight to Pokhara is breathtaking, with Himalayan views all along the way. Pokhara's ambiance may be enjoyed in natural surroundings with the Himalayas in the background.
Pokhara is Nepal's natural capital and the starting point for Annapurna trekking. Pokhara sightseeing comprises a drive or a climb to many locations for varied perspectives on geographical mysteries. Hiking and mountain biking are available to various hillsides, including Sarangkot, World Peace Stupa, and others. Your exploring destinations will be customized to meet your needs.
Meal: Breakfast

Day 04: Drive back to Kathmandu and Half a day of Sightseeing

Activities: Sunrise from Sarankot in Pokhara | Bhaktapur Durbar Square
Drive to Sarang Kot for a Sunrise view then we will get back to the hotel and enjoy breakfast. After Breakfast, we'll drive to Pokhara Airport and fly to Kathmandu from there. Drive to Bhaktapur after settling into your hotel. The Newars, Kathmandu's indigenous people, have a living heritage in Bhaktapur.
Meal: Breakfast

Day 05: Sightseeing

Activities: Chandragiri Hill Station | Cable Car Ride | Patan Durbar Square
The view tower, which is 2,547 meters above sea level, offers an unobstructed 180-degree view of the beautiful Himalayas. The snow-capped summits, from the Annapurna ranges to Mt. Everest, seem to be just an arm's length away.
The quickest way to reach Chandragiri Hills' summit station is by cable car. The 2.5-kilometer-long cable car offers a smooth and safe ride while providing a close-up view of the unspoiled wilderness.
The 2.5-kilometer cable car ride to the summit station of the Chandragiri Hills takes 9 minutes.
Patan, in Kathmandu's southwestern outskirts, is also regarded as the 'city of great art.' This city is also thought to be the world's earliest Buddhist city.
Meal: Breakfast

Day 06: Departure

Activities: Departure Transfer
Meal: Breakfast
---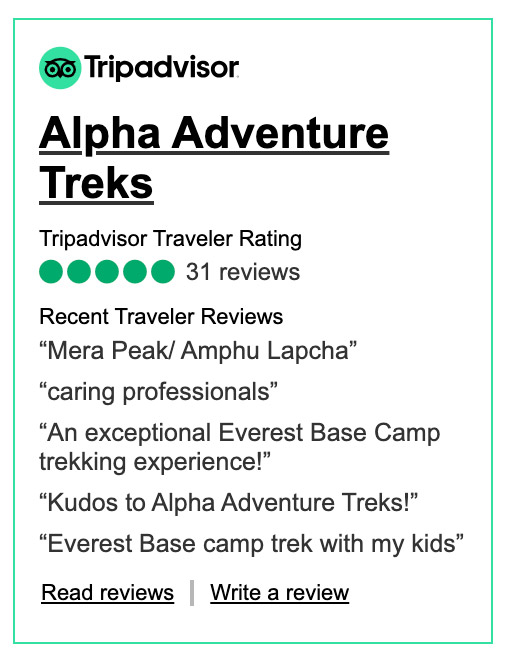 ---
What's Included?
What's Included?
Ground Transportation: Airport / Hotel / Airport pick up & drop off service by a private vehicle.
Accommodation in Kathmandu: 3 Nights' twin-sharing accommodation in a three-star hotel in a Bed and Breakfast basis.
Guide: Nepal Government licensed English-speaking trekking guide.
Food, accommodation, insurance, equipment, and medicine for all staff.
Exclusive medical kit bag carried by trekking guide
All our government taxes, vat, tourist service charges.
Official expenses
---
What's Not Included ?
What's Not Included ?
Your personal expenses for mineral water, soft beverages, confectionaries, laundries, phone calls, hot drinking water, bbar bills showers etc.
Internet facility, battery chargers, multi plugs etc.
Medical expenses and trip cancellation.
Any other extended trips and accommodation.
Tips for the guides, porters and driver as a token of appreciation.
Any other expenses or charges that are not mentioned in "cost includes" list.
Nepal arrival visa
---
Useful Information
Useful Information
PASSPORT AND VISA:
All the foreign nationals (except Indian nationals) are required to display Visa while entering Nepal. Nepalese Visa can be obtained either at the Nepalese Embassy of the respective country or can be obtained during your arrival at the International Airport in Kathmandu or from Nepal's border entry point in Kakadvitta, Birgunj, Bhairahawa, Nepalgunj, Gaddachowki on the Nepal-India border and Kodari on the Nepal-China border.
Certain nationals are requested to arrange Visa prior to arrival in Nepal. The listed countries are- Afghanistan, Iraq, Cameroon, Ghana, Somalia, Swaziland, Palestine, Zimbabwe, Nigeria, Ethiopia and Liberia and cannot secure Nepalese Visa on arrival.
VISA FACILITY DURATION FEES
Multiple Entry 15 Days US$ 80 or equivalent convertible currency
Multiple Entry 30 Days US$ 100 or equivalent convertible currency
Multiple Entry 90 Days US$ 175 or equivalent convertible currency
You can also download the VISA form and fill it up. Please go through the link as below: http://www.online.nepalimmigration.gov.np/tourist-visa
MONEY & CREDIT CARD INFO
Most of the credit card, master and visa card is blocked from your card provider. It may be because of a security reason. It, sometimes, may bring you in a problematic situation that you can't get money from ATMs. To find yourself free from this problem, you can call your card provider before you travel to Nepal and inform there that you are traveling to Nepal. Ensure them to give the authorization for the payment. In Nepal, 3.5 % service charge is applicable as per Nepal Bank rules, on top of your payable amount for the trek cost. So, we suggest you bring some cash in USD just in case your card doesn't work. Likewise, be sure you have brought some small amount for your daily expenses as well as for those items which are not included in our cost. If you want to exchange money, we provide you with the facility to change your money. Or, you can take help from Money Changers in Thamel.
TRAVEL INSURANCE:
While traveling to Nepal, you are requested to have travel insurance that should cover any comprehensive expenses possible to acquire due to medical issues or accidents. Especially, your travel insurance must protect air ambulance, treatment charges, rescue and evacuation, product cancellation and refundable charges, flight delay, and cancellations.
Insurance Policy:
Traveling in the Himalayas is full of adventurous; hence it is wise to choose a proper insurance policy. While choosing your insurance policy, make sure that it will protect all such unforeseen expenses. You must ensure that the policy you do take provides an adequate level of protection, well familiar with your itinerary and covers you for the activities involved. You must carry proof of insurance (e.g. your insurance certificate) with you on the holiday or send us a scanned copy and it must be issued from your homeland.
RECOMMENDATION:
World Nomads
https://www.worldnomads.com/
NOTE:
Please, kindly note, this given reference of the insurance company above is only a recommendation, which based on the recommendation of our previous travelers. You could review their update insurance policy by contacting them directly.
VACCINATION FOR NEPAL
Travelers should consult with their physician or update on vaccination requirements before travel. (Your doctor or the health-care provider will determine what you will need, depending on factors such as your health and immunization history, areas of the country you will be visiting, and planned activities). For traveling to Nepal, we recommend you to take vaccination of Polio, Tetanus, Typhoid, Hepatitis A, Hepatitis B, Rabies, etc. However, it is not mandatory but recommended.
ALTITUDE SICKNESS (ACUTE MOUNTAIN SICKNESS)
Altitude sickness, also known as AMS (acute mountain sickness), is caused by a lack of oxygen at high altitudes (normally above 3,000m). It occurs as the result of our bodies' inability to adapt to a sudden increase in altitude. If given time, our bodies will adjust and a gradual ascent will decrease the possibility of altitude sickness.
PREVENTION OF AMS: Go slowly, drink a lot of water, and pay attention to the sensations of your body. If symptoms occur you have climbed too far for the day. Rest at the same altitude will give you time to acclimatize and usually relieve mild symptoms.
MILD SYMPTOMS: Headache, nausea, loss of appetite, and mild shortness of breath with minimal exertion, difficulty sleeping, dizziness or lightheadedness, mild weakness, fatigue, a general unwell feeling.
SERIOUS SYMPTOMS: The inability to recover from shortness of breath with rest, severe persistent headache, low urine output, vomiting, confusion, delirium, loss of coordination. These require immediate descent as acclimatization will not take place at the same altitude.
The key is to trek slowly, carry a light pack and just take it easy. Allow your body the time it needs to acclimatize.
ARRIVAL INSTRUCTION
Upon your arrival at TIA International Airport, our company's representatives are stationed to pick you up. They will be holding your name sign along with the company's name in it. Our office representative will escort you to your hotel in Kathmandu.
---
For any queries !
Please use the below address to call us or mail us
---
Kathmandu and Pokhara Tour Departure dates and price
Given below are the departure dates available for online booking. If the given date is not favorable then please contact us and we will happily customize your trip on dates more appropriate for you.
---
Route Map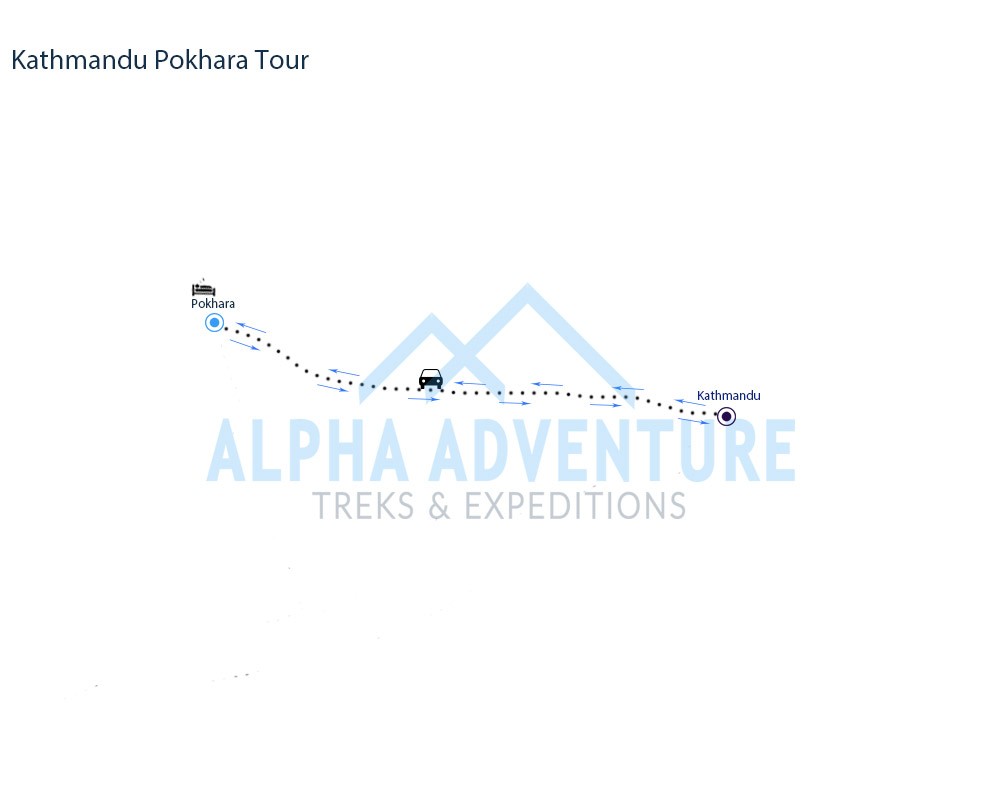 ---
Reviews
Best Short Tour of my Life !!!
Alpha Adventure Treks provided the best and most professional service. We went on a Kathmandu and Pokhara tour with them in March 2020, and they had excellent hotels in both Kathmandu and Pokhara. The driver was courteous and helpful, and all pickups and drops were completed on schedule. Alpha Adventures is a game that I recommend to everyone.
- Alvin G. (
)
Incredible Experience !!!
This is a great opportunity for non-mountaineers to get up close and personal with the Himalayas, including Everest. You'd have the most amazing day of your life.
- Beverly J. (
)
Amazing Nepal Tour
Alpha Adventure Treks took me on a Nepal excursion. They provided outstanding service throughout my trip; I had a wonderful experience in Nepal, and my favorite parts were watching the sunrise and riding an elephant.
- Roger L. (
)
Highly Recommended !!!
A terrific experience with a knowledgable and articulate guide who will take you on a comfortable and detailed tour of the attractions. The guide did not rush us or put us under any strain at any of the four stops. It was unquestionably the highlight of our trip to Kathmandu. Strongly suggested!!
- Robert Jr. (
)
Himalaya without the pesky walking!
Beautiful tourist spot on the outskirts of Kathmandu with views of the Himalaya from Annapurna to Sagarmatha. For the best chance of clear skies, go early in the morning. A cable car trip provides spectacular views of Kathmandu.
- Chris D. (
)
A perfect first impression of Nepal
We had such a wonderful time in Nepal thanks to Era and crew, who organized a tailor-made trip that combined the beauty of the mountains, the wildness of the jungle, and the fascinating culture within the country. We loved it! They took our wishes into account (some planned, some last-minute!) and made everything possible.
Our guide, Suman, was very patient, attentive, and understanding when our tummies disagreed with the itinerary. We are sorry we were unable to do more with him!
Our driver got us safely (and with considerable skill) to our destinations.
Communication was quick and heartfelt before, during, and afterward.
We'll definitely book with you again in 2024!
- Angie S. (
)
Great Trip to Nepal
I recently had the most amazing experience touring Nepal with Alpha Adventure Treks. From start to finish, their team provided exceptional service and made sure our trip was unforgettable. The itinerary was well-planned, allowing us to explore the best of Nepal's stunning landscapes and cultural heritage. The knowledgeable guides shared fascinating insights about the history, traditions, and local customs. The accommodations were comfortable, and the food provided was delicious. Whether we were trekking in the Himalayas or visiting ancient temples in Kathmandu, every moment was filled with awe and wonder. I highly recommend Alpha Adventure Treks for anyone looking to have a truly immersive and memorable Nepal tour.
- James C. (
)
Great management lovely trip
I recently returned from a Nepal tour organized by Alpha Adventure Treks, and I can't express how satisfied I am with their services. The entire trip was flawlessly executed, thanks to their professional and experienced team. The trekking routes were carefully chosen, offering breathtaking views of the Himalayan mountains and allowing us to witness the beauty of nature up close. The guides were knowledgeable, friendly, and always ready to lend a helping hand. The accommodations during the trek were comfortable, and the teahouses provided a warm and welcoming environment. Alpha Adventure Treks truly knows how to create an authentic and adventurous experience in Nepal.
- Jack A. (
)
5%
OFF
USD259pp
Why Choose Us?
Local Company
Highly Experienced Team
Cost Effective & Affordable
Flexible & Customizable Trips
Authentic & Rewarding Experience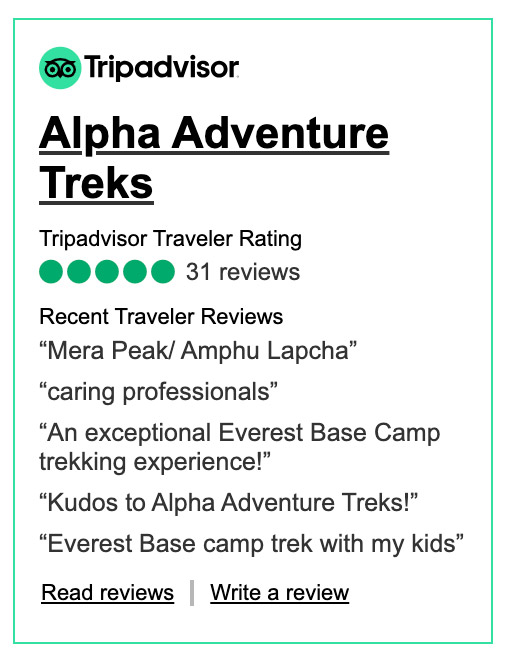 For any queries !
Please use the below address to call us or mail us