Max Elevation
1346m / 4416feet
Accomodation
3 Star Hotel
Best month
All year Around
Bhaktapur Day Tour
Embark on a mesmerizing Bhaktapur day tour and immerse yourself in the rich cultural tapestry of this ancient city. Explore Bhaktapur Durbar Square, a UNESCO World Heritage Site, adorned with palaces, temples, and courtyards showcasing exquisite Newari craftsmanship. Marvel at the intricate woodcarvings, ornate pagodas, and the iconic Nyatapola Temple, a testament to Nepal's architectural brilliance. Wander through narrow streets, known as "Galli," discovering hidden courtyards and local markets. Witness potters shaping clay into beautiful pottery at Pottery Square, and delve into the artistic heritage at the Bhaktapur National Art Gallery. Experience the timeless allure of Bhaktapur as you soak in the ancient charm, traditional culture, and architectural splendor that make it a captivating destination.
---
5%
OFF
Why Choose Us?
Local Company
Highly Experienced Team
Cost Effective & Affordable
Flexible & Customizable Trips
Authentic & Rewarding Experience
Bhaktapur Day Tour Outline Itinerary
---
Bhaktapur Day Tour Detail Itinerary

Expand All

Day 01: Bhaktapur Sigtseeing

Morning:
Start your day by heading to Bhaktapur, a UNESCO World Heritage Site located about 13 kilometers east of Kathmandu.
Upon arrival in Bhaktapur, enter through the ancient city gates and explore Bhaktapur Durbar Square, the heart of the city. Marvel at the intricate architecture, palaces, and temples that showcase Newari craftsmanship at its finest.
Mid-Morning: Visit the Nyatapola Temple, a five-story pagoda temple and one of the tallest in Nepal. Admire the exquisite woodcarvings and stone sculptures that adorn its structure.
Explore the Pottery Square, known as Bhaktapur's pottery hub. Witness potters skillfully shaping clay into beautiful pottery using traditional techniques passed down through generations.
Lunch: Enjoy a traditional Newari lunch at a local restaurant. Indulge in authentic dishes like bara, chatamari, and Juju Dhau (king curd) - specialties of Bhaktapur.
Afternoon: Visit the Dattatreya Square, another historic square in Bhaktapur. Admire the intricately carved peacock window at the Dattatreya Temple and explore the nearby Bhairavnath Temple.
Wander through the narrow streets of Bhaktapur, known as "Galli," and soak in the ancient charm of the city. Discover hidden courtyards, local markets, and traditional Newari architecture.
Late Afternoon: Make your way to the Bhaktapur National Art Gallery, located within the Palace of 55 Windows. Marvel at the impressive collection of ancient paintings, sculptures, and religious artifacts.
Evening: Visit the renowned Nyatapola Square and relax in the peaceful surroundings. Capture the stunning view of the Nyatapola Temple against the backdrop of the setting sun.
Optional: If you have extra time and energy, you can include the following optional activities:
Visit the Changu Narayan Temple, a sacred Hindu temple located on a hilltop near Bhaktapur.
Explore the Siddha Pokhari, a historic pond surrounded by temples and a serene environment.
---
---
What's Included?
Hotel
Sightseeing
Accommodation on twin sharing basis with breakfast at Hotel
Both way Airport Transfers,
Full-day sightseeing in Bhaktapur
Transportation of Kathmandu-Bhaktapur-Kathmandu.
---
What's Not Included ?
Your personal expenses for mineral water, soft beverages, confectionaries, laundries, phone calls, hot drinking water, bar bills showers ,etc.
Entrance Feees
Internet facility, battery chargers, multi plugs
Medical expenses and trip cancellation.
Any other extended trips and accommodation.
Tips for the guides, porters, and driver as a token of appreciation.
Any other expenses or charges that are not mentioned in the "cost includes" list.
Nepal arrival visa
---
Useful Information
Here is some useful information to make your Bhaktapur day tour more convenient and enjoyable:
Transportation: Bhaktapur is located about 13 kilometers east of Kathmandu. You can reach Bhaktapur by hiring a private vehicle, taking a taxi, or using local buses. The journey from Kathmandu takes approximately 30-60 minutes, depending on traffic conditions.

Timing: Bhaktapur Durbar Square and other attractions in Bhaktapur are generally open from around 9:00 AM to 5:00 PM. It's best to arrive early in the morning to avoid crowds and have ample time to explore.

Entrance Fees: Bhaktapur Durbar Square and some specific temples may require an entrance fee. Carry local currency (Nepalese Rupees) in small denominations to pay for tickets. It's advisable to keep some extra cash for food, drinks, and souvenirs.

Attire: As Bhaktapur is a religious and culturally significant place, it's important to dress modestly and respectfully. Ensure your shoulders and knees are covered, and avoid wearing revealing or offensive clothing.

Footwear: In many areas of Bhaktapur, you will need to remove your shoes before entering temples, palaces, and certain courtyards. Bring a pair of comfortable slip-on shoes or sandals that are easy to remove and put back on.

Guides: Hiring a local guide can greatly enhance your Bhaktapur tour experience. A knowledgeable guide can provide historical and cultural insights, as well as take you to lesser-known attractions. They can also help navigate the maze-like streets and provide recommendations.

Food and Refreshments: Bhaktapur offers a range of eateries, from street food stalls to traditional Newari restaurants. Enjoy local delicacies such as Juju Dhau (king curd), bara, and chatamari. Stay hydrated and carry a water bottle, as it can get hot during the day.

Photography: Bhaktapur's architectural marvels and cultural richness make it a photographer's paradise. Most areas allow photography, but be respectful and seek permission before taking pictures of people, especially in religious sites.

Safety: Be cautious of your belongings and keep them secure. Stay alert while walking through crowded areas, and be mindful of traffic when crossing roads. Follow any safety guidelines provided by the authorities or attraction staff.

Local Customs: Respect the local customs and traditions. Observe and adhere to the rules and regulations set by the temples and heritage sites. Remember to be mindful of noise levels and be respectful of the local residents.
Bhaktapur offers a captivating blend of history, art, and spirituality. With these useful tips in mind, you can make the most of your Bhaktapur day tour and create lasting memories of this enchanting city.
---
For any queries !
Please use the below address to call us or mail us
---
Bhaktapur Day Tour Departure dates and price
Given below are the departure dates available for online booking. If the given date is not favorable then please contact us and we will happily customize your trip on dates more appropriate for you.
| Start Date | Trip Cost | Availability | Booking |
| --- | --- | --- | --- |
| Start Date | Trip Cost | Availability | Booking |
| --- | --- | --- | --- |
---
Route Map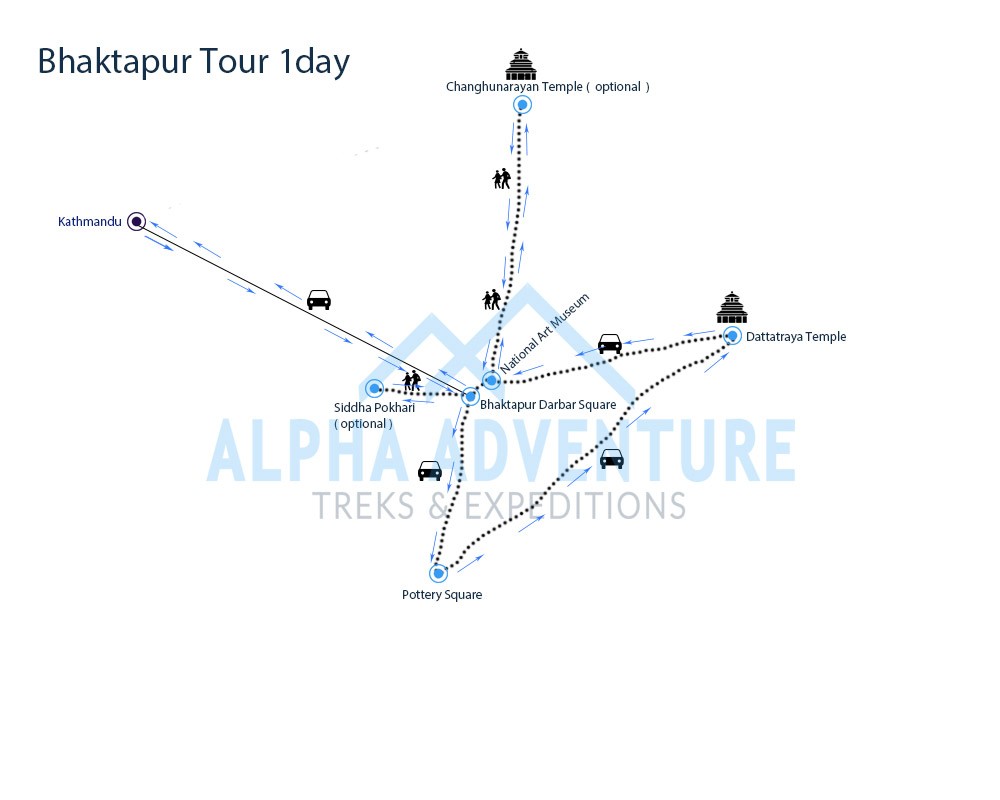 ---
Reviews
Had a wonderful Time !!!
Our family went on a pilgrimage Tour with these guys last year and loved how they took care of us. My mum was not very well on the way and the guide was with her always to make her comfortable and give her company. I would highly Recommend AAT for your next Tour to Nepal.
- Rajiv (
)
Great management lovely trip
I recently returned from a Nepal tour organized by Alpha Adventure Treks, and I can't express how satisfied I am with their services. The entire trip was flawlessly executed, thanks to their professional and experienced team. The trekking routes were carefully chosen, offering breathtaking views of the Himalayan mountains and allowing us to witness the beauty of nature up close. The guides were knowledgeable, friendly, and always ready to lend a helping hand. The accommodations during the trek were comfortable, and the teahouses provided a warm and welcoming environment. Alpha Adventure Treks truly knows how to create an authentic and adventurous experience in Nepal.
- Jack A. (
)
5%
OFF
Why Choose Us?
Local Company
Highly Experienced Team
Cost Effective & Affordable
Flexible & Customizable Trips
Authentic & Rewarding Experience
For any queries !
Please use the below address to call us or mail us