Fitness Level
Challenging
Accomodation
Basic Mountain Lodges and Tea Houses
Best month
March - May and September - Mid December
Everest Base Camp Trek 14 Days
An Everest base camp trek is a truly amazing experience, a journey for those whose fantasies to stand on the top of the world, 8,848m high on Mt Everest. But realistically, the majority of people won't be able to accomplish this. However, in case you have strong determination with good fitness, you can come to Everest Base Camp. Everest Base Camp Trek is the number one trekking trail in the world where you get to witness the mind-blogging views of the majestic Himalayan range enriched by the local cultures and traditions of the communities that live in this region.
The once-in-a-lifetime journey, Everest Base Camp Trek 14 days starts from Lukla with a scenic flight from Kathmandu, which in itself is memorable. After the flight, following the trail, we will pass Namche Bazaar, Phakding, Tengboche, Dingboche, Lobuche, Gorakshep, Kalapattar, and finally reach Everest Base Camp while also witnessing beautiful Sherpa villages, peaceful pine and rhododendron forests along the way. The Kalapatthar is well known for the jaw-dropping 360-degree views of Everest and other several surrounding peaks including Lhotse, Nuptse, Pumori, and more. Experience the rich Sherpa culture with Tibetan monasteries which is filled up with traditional paintings and spiritual practice where you can find out about their local beliefs and traditions. We will also visit Tengboche Monastery, the largest monastery of Everest and home to a large group of Buddhist monks where you can witness traditional worship like meditation and chanting face to face. You can see a strong sense of generosity and spiritual significance on this 14 days trek to Everest base camp. There are many other spectacular highlights in this trek.
This is most likely the best trekking in the Himalayas, full of adventures and fun. This trek is recommended to those travelers who are in the perfect physical condition and can easily walk for several hours over rough and often steep terrain.
---
5%
OFF
USD1360pp
About This Trip
This trip is completely customizable.
Have a large group? We can assist you.
We work with you to make it affordable.
Choose your own departure dates.
Everest Base Camp Trek 14 Days Outline Itinerary
| | | |
| --- | --- | --- |
| Day 01: | Arrival in Kathmandu | |
| Day 02: | Fly Lukla (2,840 m/ 9,372 ft) and Phakding (2,610 m/ 8,613 ft) | Flight: 30 minutes | Trek: 3/4 hrs. Meal: BLD | |
| Day 03: | Namche (3440 m/ 11,283 ft) | Trek: 5/6 hrs. Meal: BLD | |
| Day 04: | Namche Bazaar (3,440 m) – (First day for acclimatization) Meal: BLD | |
| Day 05: | Tengboche (3,867 m/ 12,684 ft) | Trek: 5/6 hrs Meal: BLD | |
| Day 06: | Dingboche (4,358m / 14, 295 ft) | Trek: 5/6 hrs Meal: BLD | |
| Day 07: | Dingboche (4,358 m) – (second day for acclimatization) Meal: BLD | |
| Day 08: | Lobuche (4,928 m/ 16,164 ft) | Trek: 5/6 hrs Meal: BLD | |
| Day 09: | Everest Base Camp ( 5,364 m/ 17,575 ft) and return to Gokarshep ( 5,160 m/ 16,929 ft) | Trek: 5/6 hrs Meal: BLD | |
| Day 10: | Morning Kalapathar (5,550 m/ 18,204 ft) and Pheriche (4358m/ 14,295 ft) | Trek: 5/6 hrs Meal: BLD | |
| Day 11: | Namche Bazaar (3,440 m/ 11,283 ft) | Trek: 4/5 hrs. Meal: BLD | |
| Day 12: | Lukla (2,840 m/ 9,372 ft) Trek: 6/7 hrs Meal: BLD | |
| Day 13: | Fly to Kathmandu | Flight: 30 minutes Meal: B | |
| Day 14: | Departure Meal: B | |
Everest Base Camp Trek 14 Days Detail Itinerary

Expand All

Day 01: Arrival in Kathmandu

On the first day, following your arrival hour at Tribhuwan International Airport, our company representatives will warmly welcome and receive you and escort you to a tourist standard hotel. We also schedule a meeting for briefing, regarding the trek and complete whole office formalities. In the evening hour, we recommend genuine Nepali food in the most popular Nepalese restaurant where you can enjoy Nepali cultural dance and music along.

Day 02: Fly Lukla (2,840 m/ 9,372 ft) and Phakding (2,610 m/ 8,613 ft) | Flight: 30 minutes | Trek: 3/4 hrs.

The first-day early morning after breakfast, we will be transferred to Kathmandu Domestic Airport to catch our flight towards Lukla. It holds nearly 30 to 35 minutes of time over the white Himalayas to reach Lukla Airport (gateway of trekking). On Lukla, you will be introduced to other trekking members and after a few minutes of packing and arrangements, we develop our short trek towards Phakding. However, the first-day short trek assists proper acclimatization for you and steeping on Phakding, the first night of trekking will be at one of the guest houses in Phakding.
Meal: BLD

Day 03: Namche (3440 m/ 11,283 ft) | Trek: 5/6 hrs.

This second day of trekking towards Everest base camp takes us through pleasing pine forests along the bank of Dudh Koshi River passing the first suspension bridge and many small villages to Monju (gateway of Sagarmatha National Park). Eventually, after a short time, we reach the check post and after short formalities, we entrance forward to Sagarmatha National Park. Our trial further offers lovely forests, old monuments, and many short and long suspension bridges across Dudh Koshi River, and after walking some certain time, we reach Namche Bazaar (gateway of Everest base camp trekking).
Meal: BLD

Day 04: Namche Bazaar (3,440 m) – First day for acclimatization

This is the first day of acclimatization considered as a rest day but we need to stay active and moving instead of being idle. This day, we move a hike to Thame or explore throughout Namche Bazaar which offers the first sight of Mount Everest with encircled snowcapped mountains and the largest Sherpa settlement. Actually, Namche bazaar is the center of the Khumbu region which holds many internet cafes, restaurants, and other amenities for relaxing and many monuments, museums, and parks for visiting on endure time.
Meal: BLD

Day 05: Tengboche (3,867 m/ 12,684 ft) | Trek: 5/6 hrs

Forth day after having a delightful breakfast, we develop our trek through a zigzag trail crossing the valley above Dudh Koshi River which provides the opportunity to sight wild musk deer, multi-colored pheasants, the herd of Himalayan Thar, and much other flora and fauna. Walking some more hours passing through many views of the giant Himalayas, beautiful settlements, terraced fields, and pleasing rhododendron and pine forests, we are probably offered by the most beautiful spot of the Everest region, Tengboche. There we explore the Tengboche monastery (Khumbu region's largest monastery) which is really improbable and have a night there at the lodge.
Meal: BLD

Day 06: Dingboche (4,358m / 14, 295 ft) | Trek: 5/6 hrs

As usual, we start our trek after having breakfast from Tengboche. Crossing Imja Khola and lush rhododendron forest we climb up to the valley's highest year-round settlement of Pangboche and passing several fascinating mini walls and small villages, we short sight Pangboche monastery. You can also get a close view of Mount Ama Dablam from there and in the afternoon collecting different and new experiences, we continue our walk to Pheriche from where our route takes Imja valley and after the last climb offer Dingboche.
Meal: BLD

Day 07: Dingboche (4,358 m) – (second day for acclimatization)

Today the sixth day is also separated for acclimatization but we won't stay idle. This day we head towards the north, behind the village to collect a breathtaking view of many visible short and tall mountains (Mt. Ama Dablam and Mt. Lhotse especially). You are also offered to notice Imja Khola valley, fields, and pastures of Dingboche or you can explore throughout the valley for the whole day. We won't step forward on the sixth day so this night we will be staying at Dingboche.
Meal: BLD

Day 08: Lobuche (4,928 m/ 16,164 ft) | Trek: 5/6 hrs

On the seventh day after having breakfast, we trigger our trek upward to Dungla through Khumbu Khola valley, and during our trek, we appreciate memorial stupas, Chola Lake, Majestic view of Mt. Pumori (7,138 m), wooden bridge, and roaring stream too. Finally stepping on Dungla, we head towards the mortal Khumbu Glacier of Mount Everest, and many great giant peaks like Khumbutse, Lingtren, Pumori, and Mahalangur Himal are spotted from Khumbu Glacier and after splitting stunning Khumbu Glacier we gently move upward and reach Lobuche for the night.
Meal: BLD

Day 09: Everest Base Camp ( 5,364 m/ 17,575 ft) and return to Gokarshep ( 5,160 m/ 16,929 ft) | Trek: 5/6 hrs

As usual, after having selected breakfast, we leave Lobuche and continue our walk towards Gokarshep to have lunch and again start to climb up focusing on Everest base camp. After a certain walk, we pass the pyramid sign and now you can spot the real giant north face of Mount Everest and many other tall mountains too. Near from small ascend you are offered a really stunting 360° view with tall snowy mountains around. Developing trek continuously through rocky and glacial trail viewing amazing views, you step to Everest base camp (aimed destination). After sightseeing and captures, we return to Gokarshep to stay.
Meal: BLD

Day 10: Morning Kalapathar (5,550 m/ 18,204 ft) and Pheriche (4358m/ 14,295 ft) | Trek: 5/6 hrs

This ninth day is the day to step on the highest elevation point of the trekking towards Kalapathar. We develop our trek forward to the viewpoint of Kalapathar in the early morning and after some hours of walk before the sunshine, we catch the sight of Kalapathar (Black rock) and other more tall mountains around and we notice that view of Kala Patthar grows as golden with the first light of the day spots there and gradually return back as same as before. After having a genius look we walk be back to Pheriche to stay overnight there.
Meal: BLD

Day 11: Namche Bazaar (3,440 m/ 11,283 ft) | Trek: 4/5 hrs.

On the tenth day after having a hot breakfast, we catch the same route that we had developed before towards Pangboche village and return crossing Imja Khola, pleasing forests, numerous bridges, and many settlements to reach Tengboche. Extending our walk continuously, passing praying stones and mini walls we step Namche Bazaar in the late afternoon, and on this tenth night, we will spend our night enjoying Sherpa cultural dances and dishes at Namche bazaar.
Meal: BLD

Day 12: Lukla (2,840 m/ 9,372 ft) Trek: 6/7 hrs

On the eleventh day we shoot out trek early morning from Namche along crossing through Dudh Koshi River, suspension bridges, and settlements, we reach Monjo. As past, after considering some formalities at the check post of National Park we head towards Phakding. This is the last day of our walk and almost, most of the tracks are open plains with rhododendron and pine forests and ancient monuments on the way. In the evening after you step on Lukla your time will be spent on entertainment and memory sharing with crew members.
Meal: BLD

Day 13: Fly to Kathmandu | Flight: 30 minutes

Last day of our trekking, we catch our scheduled flight from Lukla over snow-capped mountains to Kathmandu. Normally flights are in the morning time but you can have plenty of time for your breakfast. The guide takes care of your Airport management along with your bags and luggage will be carried by local porters to the airport. After you will return back to Kathmandu private vehicles will be awaiting you to pick and shift to your hotel.
Meal: Breakfast

Day 14: Departure

Last day of trekking, you can visit around Kathmandu valley for having fun and collect some memories or go shopping before the flight time. Our company's private vehicle will take you to the airport focusing your flight time for your final departure and our representative wishes for your safe journey with respect and greetings at the airport.
Meal: Breakfast
What's Included?
Ground Transportation: Airport pick up & drop off service by a private vehicle.
Accommodation during Trek: 11 Nights'basic guesthouse accommodation during the trek in mostly twin-share and occasionally dormitory-style rooms. [Few nights in the attached bathroom in available places ]
Accommodation in Kathmandu: 2 Nights'twin sharing room in Kathmandu at 3* Hotel with Bed and Breakfast Plan
Meals: 3 Meals per day during the trek (BLD: Breakfast/Lunch/Dinner. Each meal consist of one course of the meal)
Guide: Nepal Government licensed English-speaking trekking guide.
Porter: The required number of local staff and porters to carry your luggage during the trek (2 trekkers: 1 porter)
Permit: Everest National Park permits and Khumbu permit for trekking.
Domestic Airfare: Kathmandu – Lukla - Kathmandu including airport departure tax in Kathmandu and Lukla airports.
Souvenir: Duffle Bag, Trekking T-shirt, Trekking Maps
Equipment: Sleeping Bag and Down Jacket during Trek (upon request)
Food, accommodation, insurance, equipment, and medicine for all staff.
The exclusive medical kit bag carried by trekking guide
All our government taxes, vat, tourist service charges.
Official expenses

---
What's Not Included ?
Nepal arrival visa
Your personal expenses for mineral water, soft beverages, confectionaries, laundries, phone calls, hot drinking water, bbar bills showers etc.
Internet facility, battery chargers, multi plugs etc.
Extra baggage excess while flying to Lukla.
Medical expenses and trip cancellation.
Any other extended trips and accommodation.
Tips of ga guides, porters and driver as a token of appreciation.
Any other expenses or charges that are not mentioned in "cost includes" list.

---
Useful Information
PASSPORT AND VISA:
All the foreign nationals (except Indian nationals) are required to display Visa while entering Nepal. Nepalese Visa can be obtained either at Nepalese Embassy of the respective country or can be obtained during your arrival at the International Airport in Kathmandu or from Nepal's border entry point in Kakadvitta, Birgunj, Bhairahawa, Nepalgunj, Gaddachowki on the Nepal-India border and Kodari on the Nepal-China border.
Certain nationals are requested to arrange Visa prior to arrival in Nepal. The listed countries are- Afghanistan, Iraq, Cameroon, Ghana, Somalia, Swaziland, Palestine, Zimbabwe, Nigeria, Ethiopia and Liberia and cannot secure Nepalese Visa on arrival.
VISA FACILITY DURATION FEES
Multiple Entry 15 Days US$ 75 or equivalent convertible currency
Multiple Entry 30 Days US$ 90 or equivalent convertible currency
Multiple Entry 90 Days US$ 150 or equivalent convertible currency
You can also download VISA form and fill up. Please go through the link as below: http://www.online.nepalimmigration.gov.np/tourist-visa
MONEY & CREDIT CARD INFO
Most of the credit card, master and visa card is blocked from your card provider. It may be because of a security reason. It, sometimes, may bring you in a problematic situation that you can't get money from ATMs. To find yourself free from this problem, you can call your card provider before you travel to Nepal and inform there that you are traveling to Nepal. Ensure them to give the authorization for the payment. Be sure you have brought some small amount for your daily expenses as well as for those items which are not included in our cost. If you want to exchange money, we provide you with the facility to change your money. Or, you can take help from Money Changers in Thamel.
TRAVEL INSURANCE:
While traveling to Nepal, you are requested to have travel insurance that should cover any comprehensive expenses possible to acquire due to medical issues or accidents. Especially, your travel insurance must protect air ambulance, treatment charges, rescue and evacuation, product cancellation and refundable charges, flight delay, and cancellations.
Insurance Policy:
Traveling in the Himalayas is full of adventurous; hence it is wise to choose a proper insurance policy. While choosing your insurance policy, make sure that it will protect all such unforeseen expenses. You must ensure that the policy you do take provides an adequate level of protection, well familiar with your itinerary and covers you for the activities involved. You must carry proof of insurance (e.g. your insurance certificate) with you on the holiday or send us scanned copy and it must be issued from your homeland.
RECOMMENDATION:
1. World Nomads
https://www.worldnomads.com/
NOTE:
Please, kindly note, these given reference of the insurance company above is only a recommendation, which based on the recommendation of our previous travelers. You could review their update insurance policy by contacting them directly.
VACCINATION FOR NEPAL
Travelers should consult with their physician or update on vaccination requirements before travel. (Your doctor or the health-care provider will determine what you will need, depending on factors such as your health and immunization history, areas of the country you will be visiting, and planned activities). For traveling to Nepal, we recommend you to take vaccination of Polio, Tetanus, Typhoid, Hepatitis A, Hepatitis B, Rabies, etc. However, it is not mandatory but recommended.
ALTITUDE SICKNESS (ACUTE MOUNTAIN SICKNESS)
Altitude sickness, also known as AMS (acute mountain sickness), is caused by a lack of oxygen at high altitudes (normally above 3,000m). It occurs as the result of our bodies' inability to adapt to a sudden increase in altitude. If given time, our bodies will adjust and a gradual ascent will decrease the possibility of altitude sickness.
PREVENTION OF AMS: Go slowly, drink a lot of water, and pay attention to the sensations of your body. If symptoms occur you have climbed too far for the day. Rest at the same altitude will give you time to acclimatize and usually relieve mild symptoms.
MILD SYMPTOMS: Headache, nausea, loss of appetite, and mild shortness of breath with minimal exertion, difficulty sleeping, dizziness or lightheadedness, mild weakness, fatigue, a general unwell feeling.
SERIOUS SYMPTOMS: The inability to recover from shortness of breath with rest, severe persistent headache, low urine output, vomiting, confusion, delirium, loss of coordination. These require immediate descent as acclimatization will not take place at the same altitude.
The key is to trek slowly, carry a light pack and just take it easy. Allow your body the time it needs to acclimatize.
ARRIVAL INSTRUCTION
Upon your arrival at TIA International Airport, our company's representatives are stationed to pick you up. They will be holding your name sign along with the company's name in it. Our office representative will escort you to your hotel in Kathmandu.
Everest Base Camp Trek 14 Days Departure dates and price
The given cost are per person and exclude international flights. Given below are the departure dates available for online booking. If the given date is not favorable then please contact us and we will happily customize your trip on dates more appropriate for you.
| Start Date | Trip Cost | Availability | Booking |
| --- | --- | --- | --- |
Route Map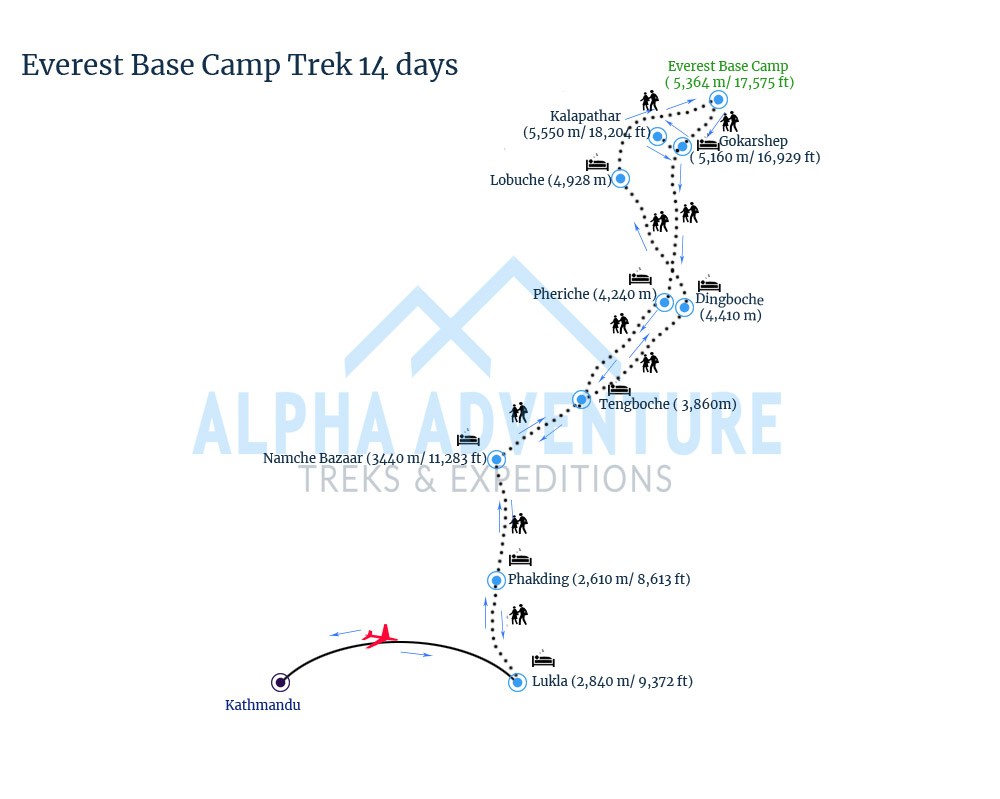 Reviews

Recommended EBC Trek
In April of this year, I traveled to EBC with a buddy, and we used Alpha Adventure as our travel agent and guide. They were extremely attentive to our requirements and were able to accommodate our last-minute alterations and demands. I had a fantastic time on the trip, and I want to express my gratitude to our guide for accommodating all of our requests. Excellent service!
- Abas Ali (
)

Everest Base Camp trek by Road
We had to take the road to get to the Everest Base Camp as the flight was canceled due to bad Weather. We were so sad but the reality was the opposite, the route was long and rough with beautiful settlements and landscapes. It took us 3 days to reach Lukla and join the other trekkers who had flown from Kathmandu.
- Russell S. (
)

Best Trekking Site for the Novice
I had no Peak climbing experience, Talked with the guys from AAT and they arranged the best package. One of the best experiences I had in a long long time.
- Raja R. (
)

Trekking to Gokyo Lake and Renjo La Pass is one of Nepal's top treks.
I recently completed a trekking trip in Nepal with Alpha Adventure Treks.
I visited the Everest region (Gokyo Lake and Renjo La Pass); they have a great guide and a great porter; I enjoy their employees (they are extremely friendly and smiling during the trip); their service is excellent, and the guide provides us with a wealth of information about Nepal and the surrounding area. Personally, I'm overjoyed that I chose this trekking company for my Nepal vacation.
- Peter K. (
)

EBC trek: Up, Up, and Away
From Lukla to Everest Base Camp and back, I enjoyed the most incredible 8-day hike. The use of a guide was extremely educational and beneficial. I also hired a porter because the return trip is almost 100 kilometers at altitude, which is exhausting even if you are in good shape. Hiking in the Himalayas is both beautiful and fulfilling, and I would strongly advise it to anyone, regardless of age or physical ability. I'd do it all over again in a heartbeat and can't wait to return.
- Kelly J. (
)

Excellent guide, landscape, and whole experience.
Our guided private trek was excellent. His English is great, and he is both friendly and humorous. We are both slow walkers, and he was extremely patient with us. We see him as a buddy after 12 days together. The journey is fantastic: the walking is strenuous, but you can order food from a vast menu and sleep in a luxurious bed every evening. This is a trek that I would strongly suggest to everyone.
- Vincent R. (
)

Everest Base Camp Helicopter Tour
I've just returned from a terrific helicopter tour to Everest base camp. It was a fantastic adventure. Because a private excursion was out of my budget, I scheduled a group joining helicopter tour. I appreciated the companionship of the other flying passengers. While waiting for the aircraft, we had a great time chatting and sharing a delicious breakfast at Hotel Everest View.
- Norman J. (
)

A most memorable adventure in Nepal
Joey, our Kathmandu contact, was wonderful from our home in Australia!
He was always willing to assist us with our (many) queries throughout the road. We couldn't be happier with everything that was provided, from the accommodations and schedule to connecting us with a city tour and our incredible trekking guide.
- Tim A. (
)

Best Trekking Experience!!
The hike to Pikey Peak went off without a hitch. The company's organization, the hotel's location, and the rise schedule. Our guide, was fantastic, really responsible, and knowledgeable. Thank you for a wonderful vacation, Alpha Adventure treks, Mr. Puru, and his staff.
- Ricardo J. (
)

Amazing Once In A Lifetime Experience
We just returned from the Everest Panorama Trek with Alpha Adventure Team, and it was one of the most unforgettable experiences of our lives. From the minute we landed in Kathmandu until we were transported back to the airport, Puru coordinated the entire trip for us, and we were thoroughly taken care of and treated like royalty. The entire vacation went off without a hitch, and we can't think of anything that could have been done better.
- Jenny H. (
)

24 days EBC trek with Alpha Adventure Treks
Late April 2019, I went on a 24-day trip with Alpha Adventure to Everest Base Camp via Gokyori and Chola Pass. It was one of the most well-organized treks I've ever experienced. There were no internal planes available from Kathmandu, therefore a last-minute arrangement was devised. Because I was the only one in the group, the guides went out of their way to make me feel at ease. I always had a room to myself because there was no one else in the group of the same gender to share one with. It was a fantastic trip, and even though it has been over a month since I returned, the memories still bring a smile to my face.
- John Davis (
)

Everest Base Camp with Alpha Adventure Treks
Alpha Adventure Treks took me to Everest Base Camp; we were a group of seven, and the trip was a complete success. They provided us with an unforgettable experience and attended to all of our needs. Our safety was their top focus, and they made sure we were always at ease.
I would use Alpha Adventure Excursions for future treks without hesitation.
- Joey H. (
)

journey of a life time
Went there with my freinds, Alpha Adventure Team was quick enoough to make all the arrangements on short notice. will definately recomend them and thank you.
- Jim (
)
5%
OFF
USD1360pp
About This Trip
This trip is completely customizable.
Have a large group? We can assist you.
We work with you to make it affordable.
Choose your own departure dates.
For any queries !
Please use the below address to call us or mail us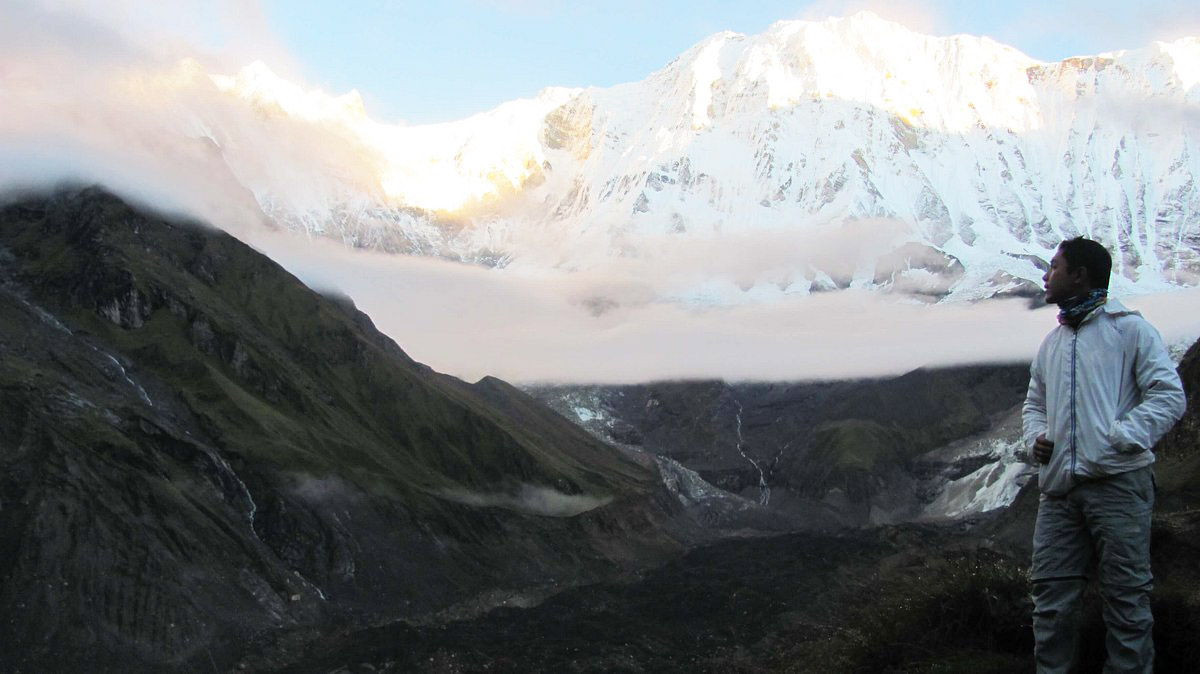 Enjoyed the experience to the fullest.
Went to Annapurna Base Camp and really loved this trek route. The mountains, hills, rivers, locals and livestock are still fresh in my memory. The route from Machapuchre base camp to Annapurna Base Camp was like a dream. And the base camp itself in between the massive Annapurna and Machapuchre was a surreal exprience. Thanks to Alpha Adventure Treks for managing everything with highest professionalism. Didn't have to worry about anything.
Mijal T
View All Reviews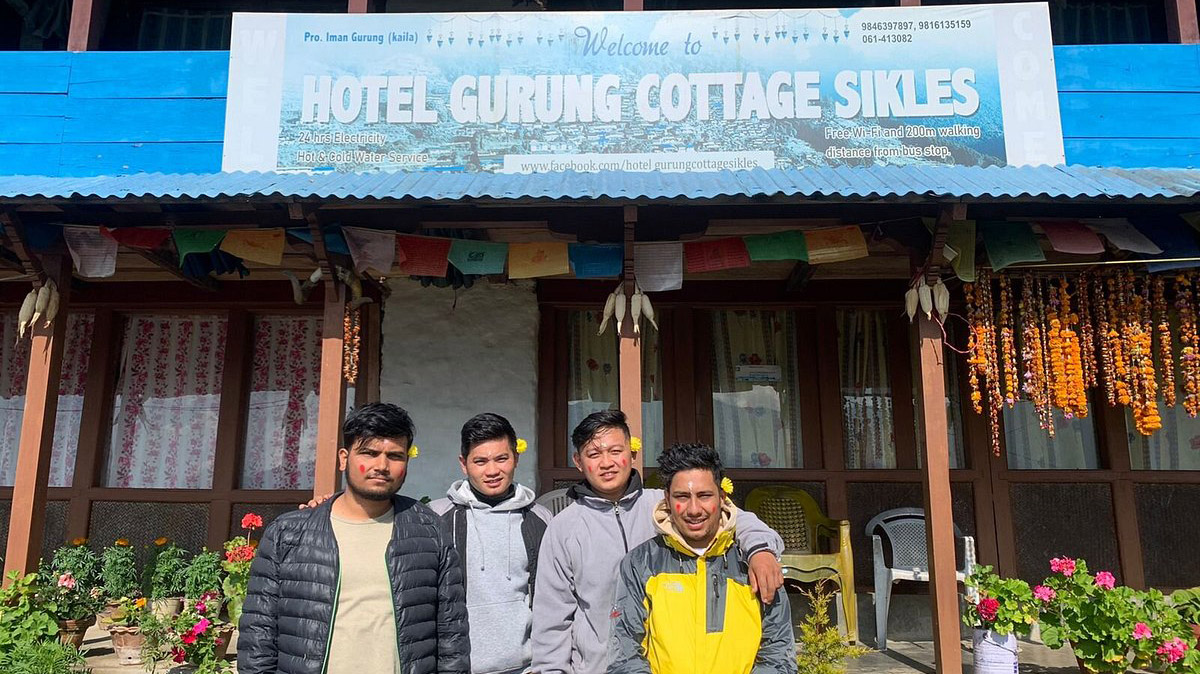 Great Trip.
It was a really amazing trek to kapuche lake, organized by this company. Everything was great: accommodation, food, etc. Especially worth mentioning purushottam who really helpful to us . He is a professional in his field and also a very cheerful and friendly person. He knows the route very well and is always ready to help. Thank you so much for organizing this trip!
Sushil K
View All Reviews