Max Elevation
3,710 meters (12,172 feet)
Accomodation
Home Stays and Tea Houses
Best month
March- June and September- December
Pashupatinath and Muktinath Tour
A pilgrimage tour to Pashupatinath and Muktinath in Nepal offers a unique blend of cultural and spiritual experiences. These two destinations hold significant importance for both Hindu and Buddhist devotees, making the journey a fascinating exploration of Nepal's religious heritage. Here's an overview of what you can expect on a Pashupatinath and Muktinath tour:
Pashupatinath:
Location: Pashupatinath Temple is situated in Kathmandu, the capital city of Nepal.
Significance: Pashupatinath is one of the holiest Hindu temples dedicated to Lord Shiva. It is considered the protector and patron deity of Nepal. The temple complex is a UNESCO World Heritage Site.
Features: The main temple, adorned with intricate carvings and pagoda-style architecture, houses a sacred lingam (phallic representation of Lord Shiva). The Bagmati River, which flows adjacent to the temple, is also considered holy and is used for cremation ceremonies.
Rituals: Devotees perform various rituals, including taking holy dips in the Bagmati River, performing puja (worship), and offering prayers to Lord Shiva.
Atmosphere: The temple complex is bustling with devotees, sadhus (holy men), and tourists. The atmosphere is a blend of spirituality, culture, and devotion.
Muktinath:
Location: Muktinath is situated in the Mustang district of Nepal, in the Annapurna Conservation Area.
Significance: Muktinath is a sacred pilgrimage site for both Hindus and Buddhists. It is considered a place of liberation (moksha) and is one of the 108 Divya Desams (holy abodes of Lord Vishnu) in Hinduism.
Features: The main attraction is the Muktinath Temple, which houses a natural gas flame and 108 water sprouts. The temple complex also includes a monastery and several other shrines.
Scenic Beauty: The journey to Muktinath takes you through stunning landscapes, including lush valleys, arid terrains, and snow-capped peaks. The area is known for its unique geology and cultural diversity.
Rituals: Devotees take holy baths under the 108 water sprouts, believing it purifies them of their sins. Buddhists and Hindus coexist in the temple complex, making it a harmonious spiritual site.
Trekking: Many visitors choose to trek to Muktinath, with the popular Annapurna Circuit offering breathtaking views of the Himalayas.
A Pashupatinath and Muktinath tour is not just a physical journey; it's a deeply spiritual and cultural exploration that allows you to witness the devotion, rituals, and traditions of Nepal's people while surrounded by awe-inspiring natural beauty.
---
5%
OFF
USD489pp
Why Choose Us?
Local Company
Highly Experienced Team
Cost Effective & Affordable
Flexible & Customizable Trips
Authentic & Rewarding Experience
Pashupatinath and Muktinath Tour Outline Itinerary
Day 01: Arrival in Kathmandu and Transfer to a Hotel
Day 02: Pashupatinath Darshan and Drive to Pokhara
Day 03: Fly to Jomsom and Drive to Muktinath and Overnight at Jomsom
Day 04: Fly Back to Pokhara and Sightseeing
Day 05: Drive back to Kathmandu
Day 06: Departure
---
Pashupatinath and Muktinath Tour Detail Itinerary

Expand All

Day 01: Arrival in Kathmandu and Transfer to a Hotel

Arrive at Tribhuvan International Airport in Kathmandu. Meet your tour representative and transfer to your hotel. Check-in, freshen up, and relax after your journey. Depending on your arrival time, you can explore the local markets or enjoy some leisure time.

Day 02: Pashupatinath Darshan Drive to Pokhara

Early morning Drive to Pashupatinath Temple for Darsha and After breakfast, embark on a scenic drive to Pokhara (approx. 200 km, 6-7 hours). The drive takes you through picturesque landscapes, rural villages, and beautiful valleys. Arrive in Pokhara, check-in to your hotel, and relax. In the evening, you can take a leisurely stroll by Phewa Lake and enjoy the serene ambiance.
Meal: Breakfast

Day 03: Fly to Jomsom and Drive to Muktinath and Overnight at Jomsom

Early morning, transfer to Pokhara's airport for a flight to Jomsom (approx. 20 minutes). Upon arrival in Jomsom, drive to Muktinath (approx. 1.5 hours) through the stunning Kali Gandaki Gorge. Explore the Muktinath Temple complex, take a holy bath under the 108 water sprouts, and offer prayers. Drive back to Jomsom and check-in to your hotel for an overnight stay.
Meal: Breakfast

Day 04: Fly Back to Pokara and Sightseeing

In the morning, take a flight back to Pokhara. Check-in to your hotel in Pokhara and freshen up. Afternoon sightseeing tour in Pokhara, including visits to Davis Falls, Gupteshwor Cave, and the World Peace Pagoda. Enjoy a boating session on Phewa Lake and admire the reflection of the Annapurna Range in the tranquil waters.
Meal: Breakfast

Day 05: Drive Back to Kathmandu

After breakfast, drive back to Kathmandu. Arrive in Kathmandu and check-in to your hotel. If time permits, you can explore some of the iconic sites in Kathmandu, such as Swayambhunath Stupa (Monkey Temple) or Boudhanath Stupa.
Meal: Breakfast

Day 06: Departure

Depending on your departure time, you can spend your last moments in Nepal by shopping for souvenirs or enjoying some final sightseeing. Check out from the hotel and transfer to Tribhuvan International Airport for your onward journey.
Meal: Breakfast
---
---
What's Included?
Accommodation: Hotel stays in Kathmandu, Pokhara, Jomsom, and any other destinations as per the itinerary.

Transportation: All ground transportation, including airport transfers, drives between cities, and local transportation during sightseeing.

Flights: Domestic flights between Kathmandu and Pokhara, as well as between Pokhara and Jomsom.

Meals: Typically, breakfast is included at the hotels. Some packages may include more meals, such as lunch and dinner, as specified in the itinerary.

Sightseeing: Guided tours and entrance fees to various attractions and monuments mentioned in the itinerary.

Tour Guide: Services of a knowledgeable local guide who can provide insights into the cultural, historical, and spiritual aspects of the tour.

Permits: Necessary permits for trekking or entering certain areas, such as Annapurna Conservation Area permits.

Activities: Activities mentioned in the itinerary, such as visits to temples, monasteries, and other cultural sites.

Assistance: Tour coordinator or representative to assist you throughout the journey.
---
What's Not Included ?
International Flights: Flights to and from Nepal are generally not included in the package.

Visa Fees: The cost of obtaining a Nepalese visa upon arrival or at an embassy or consulate before your trip.

Travel Insurance: It's recommended to have comprehensive travel insurance to cover medical expenses, trip cancellations, and other unforeseen events.

Personal Expenses: Expenses such as telephone calls, laundry, shopping, and any personal items you may require during the trip.

Meals: Unless specified in the itinerary, lunches and dinners are usually not included.

Tipping: Tips for guides, drivers, and hotel staff are generally not included and are at your discretion.

Optional Activities: Any optional activities or excursions not mentioned in the itinerary that you choose to participate in.

Extra Services: Any additional services or expenses not explicitly mentioned in the package.

Medical Costs: Costs related to medical treatment or medications during the tour.
---
Useful Information
Pashupatinath:
Attire and Etiquette: Dress modestly when visiting Pashupatinath. Both men and women should cover their shoulders and knees. Avoid wearing leather items and hats within the temple complex. Remove your shoes before entering the main temple area.

Visiting Times: The temple is open for tourists and devotees from early morning till evening. However, specific rituals and ceremonies take place at designated times. Check with the local guides or authorities for the timing of important rituals.

Cremation Ghats: Pashupatinath is also a site for cremation ceremonies. While it's a unique cultural experience, it's important to be respectful and maintain a distance from grieving families.

Photography: Respect the signs indicating where photography is prohibited, especially during sensitive moments and at the cremation ghats.

Local Guides: Consider hiring a local guide who can provide insights into the rituals, history, and significance of the temple.
Muktinath:
Altitude: Muktinath is situated at a higher altitude (3,800 meters), and altitude sickness can be a concern. Make sure to acclimatize properly, stay hydrated, and be aware of symptoms of altitude sickness.

Clothing: Dress in layers to adapt to the varying temperatures. Even in summer, temperatures can drop significantly at night.

Water: Carry bottled water or purification tablets, as the availability of safe drinking water might be limited.

Bathing: If you plan to take a holy bath at Muktinath's 108 water sprouts, be prepared for cold water. Carrying a towel and a change of clothes is advisable.

Local Customs: Be mindful of the local customs and traditions. Muktinath is a sacred site for both Buddhists and Hindus, so show respect and follow the guidelines provided by your guide.
General Tips:
Permits: Check if any permits are required for visiting certain areas or for trekking within the Annapurna Conservation Area.

Health Precautions: Consult your doctor before the trip and carry necessary medications, especially if you have pre-existing health conditions.

Communication: Mobile network coverage might be limited in certain areas, so inform your family or friends about your itinerary beforehand.

Weather: Nepal's weather can be unpredictable. Pack accordingly, including rain gear, warm clothing, and sunscreen.

Local Currency: The local currency is Nepalese Rupee (NPR). Make sure to have enough cash on hand, as ATMs might not be easily accessible in remote areas.

Respect Local Culture: Nepal is a culturally rich country with diverse traditions. Respect local customs, refrain from touching religious objects without permission, and always ask before taking someone's photograph.

Environmental Consciousness: Practice responsible tourism by not littering, avoiding single-use plastics, and respecting nature.
---
For any queries !
Please use the below address to call us or mail us
---
Pashupatinath and Muktinath Tour Departure dates and price
Given below are the departure dates available for online booking. If the given date is not favorable then please contact us and we will happily customize your trip on dates more appropriate for you.
| Start Date | Trip Cost | Availability | Booking |
| --- | --- | --- | --- |
| Start Date | Trip Cost | Availability | Booking |
| --- | --- | --- | --- |
---
Route Map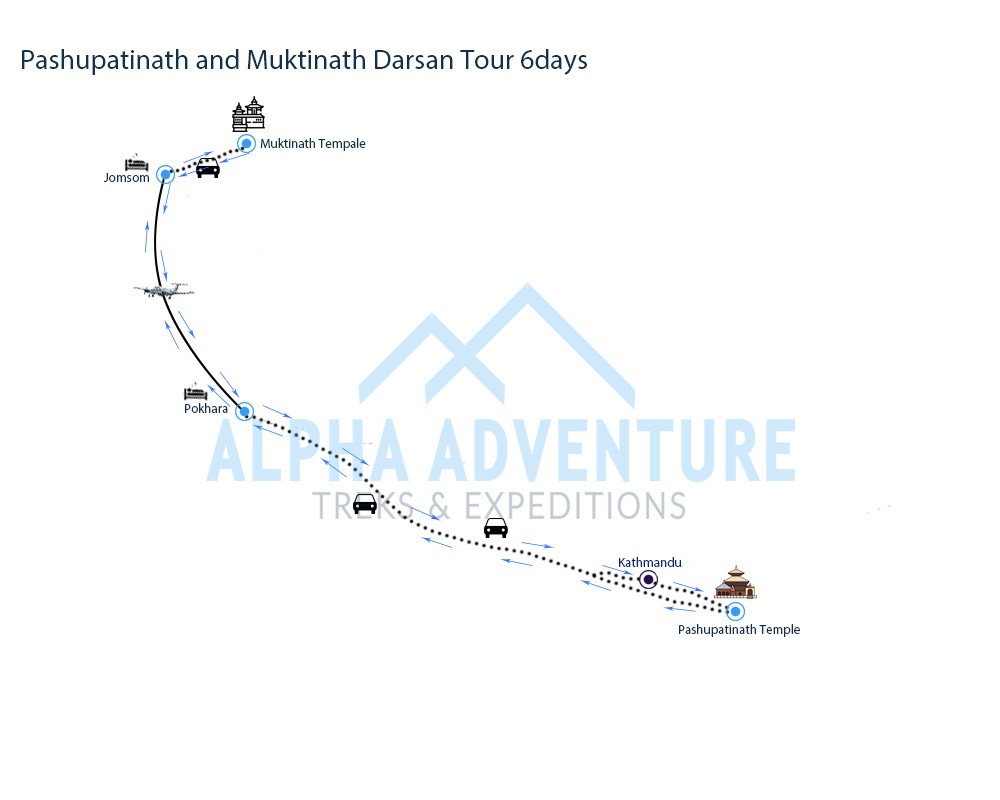 ---
Reviews
Great Time Great Experience !!!!
"Embarking on the Pashupatinath and Manakamana tour with Alpha Adventure Treks was an incredible experience that left a lasting impact on me. The well-organized itinerary seamlessly combined spiritual exploration with breathtaking scenery. The knowledgeable guides shared captivating insights into the cultural significance of these sacred sites, making the journey truly enriching. From the serene ambiance of Pashupatinath to the cable car ascent to Manakamana, every moment was filled with wonder. Alpha Adventure Treks' attention to detail, seamless logistics, and warm hospitality made this journey one I'll cherish forever. Highly recommended for anyone seeking a meaningful and memorable Nepal pilgrimage."
- Rani K. (
)
Great management lovely trip
I recently returned from a Nepal tour organized by Alpha Adventure Treks, and I can't express how satisfied I am with their services. The entire trip was flawlessly executed, thanks to their professional and experienced team. The trekking routes were carefully chosen, offering breathtaking views of the Himalayan mountains and allowing us to witness the beauty of nature up close. The guides were knowledgeable, friendly, and always ready to lend a helping hand. The accommodations during the trek were comfortable, and the teahouses provided a warm and welcoming environment. Alpha Adventure Treks truly knows how to create an authentic and adventurous experience in Nepal.
- Jack A. (
)
Great Trip to Nepal
I recently had the most amazing experience touring Nepal with Alpha Adventure Treks. From start to finish, their team provided exceptional service and made sure our trip was unforgettable. The itinerary was well-planned, allowing us to explore the best of Nepal's stunning landscapes and cultural heritage. The knowledgeable guides shared fascinating insights about the history, traditions, and local customs. The accommodations were comfortable, and the food provided was delicious. Whether we were trekking in the Himalayas or visiting ancient temples in Kathmandu, every moment was filled with awe and wonder. I highly recommend Alpha Adventure Treks for anyone looking to have a truly immersive and memorable Nepal tour.
- James C. (
)
Pokhara was always my top in list to visit
I and my husband went on a private tour to Kathmandu, Pokhara, and Chitwan last year. We had a great time. The hotels we stayed in were very clean and welcoming.
- Rani G. (
)
Had a wonderful Time !!!
Our family went on a pilgrimage Tour with these guys last year and loved how they took care of us. My mum was not very well on the way and the guide was with her always to make her comfortable and give her company. I would highly Recommend AAT for your next Tour to Nepal.
- Rajiv (
)
Himalaya without the pesky walking!
Beautiful tourist spot on the outskirts of Kathmandu with views of the Himalaya from Annapurna to Sagarmatha. For the best chance of clear skies, go early in the morning. A cable car trip provides spectacular views of Kathmandu.
- Chris D. (
)
Day well Spent in Kathmandu
I and the guys went on a short Kathmandu and Nagarkot day tour and enjoyed it a lot. Had a lot of fun overnight at Nagarkot.
- Raju K. (
)
5%
OFF
USD489pp
Why Choose Us?
Local Company
Highly Experienced Team
Cost Effective & Affordable
Flexible & Customizable Trips
Authentic & Rewarding Experience
For any queries !
Please use the below address to call us or mail us