Max Elevation
5,600 meters/18,373 feet
Meals
Breakfast at Hotel Everest View at Syangboche
Accomodation
Basic Mountain Lodges and Tea Houses
Best month
Spring (March- May) / Autumn (September- November)
Everest Base Camp Heli Tour
The Everest Base Camp Helicopter Tour is great for individuals who do not have enough time to trek for hours upon hours over several days. Similarly, physically challenged people with a desire to explore the world's tallest mountain can complete this excursion in a matter of hours. People may be curious as to how difficult exploring Mt. Everest might be. This sumptuous excursion, on the other hand, is for individuals who believe trekking is too strenuous for them. This exhilarating excursion offers up close and personal views of magnificent Himalayan peaks. The main draw of this excursion is the opportunity to see the world's tallest peaks up close, as well as other well-known summits such as Gourishankar, Cho-Oyu, and Lhakpa Dorje.
The Everest Base Camp helicopter trip begins at Kathmandu's Tribhuwan International Airport's domestic terminal. As the flight takes off from the airport, you'll get a bird's eye view of many of Kathmandu's heritage monuments. The snowcapped peaks begin to appear in front of your eyes as the helicopter proceeds towards the eastern side. For a short time, the chopper will land at an airfield to conduct certain pre-trip preparations. During the break, take in the sights of the Himalayan range that surrounds the Lukla hamlet.
---
2%
OFF
USD1147pp
Why Choose Us?
Local Company
Highly Experienced Team
Cost Effective & Affordable
Flexible & Customizable Trips
Authentic & Rewarding Experience
Everest Base Camp Heli Tour Outline Itinerary
| | |
| --- | --- |
| Phase 01: | The Everest base camp helicopter takes off from Kathmandu and travels across the Kathmandu valley, Nagarkot peak, Jiri Alpine forest, and Lukla. |
| Phase 02: | Fly past Namche Bazaar, the historic Tengboche Buddhist monastery, Pheriche, the Khumbu Glacier, and the Kala Patthar viewpoint after refueling |
| Phase 03: | Fly through Everest Base Camp after taking off from Kala Patthar (EBC). Then it is time for breakfast at the Everest View Hotel. |
| Phase 04: | After having breakfast, fly to Lukla via Namche bazaar, with a brief stop in Lukla for refueling, before returning to Kathmandu |
---
Everest Base Camp Heli Tour Detail Itinerary

Expand All

Our Everest Base Camp Heli tour begins in Kathmandu and travels eastwards along the Himalayan range, providing wonderful views of the soaring Himalayan peaks and towards the lovely Sherpa settlement of Lukla, the Everest gateway. The flight departs Lukla after refueling and heads for Everest Base Camp / Kalapathar. To reach Mount Everest's Base Camp, the flight passes over the Tengboche, Dingboche, Gorakshep, and Khumbu glaciers.
This incredible helicopter flight takes you to some of the most breathtaking mountain views and scenery. Because of the altitude hazard, you will only have a maximum of 5 minutes to land at base camp. On the way back, you will have 20 minutes for breakfast at Syangboche (Hotel Everest view). Mt. Everest and its range are visible from Syangboche. After that, you will fly back to Lukla for fuel and then to Kathmandu to conclude your Everest Base Camp helicopter tour.
---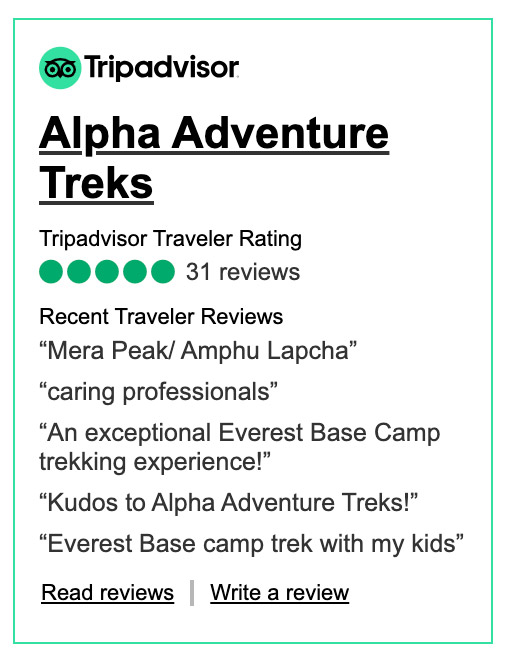 ---
What's Included?
Airport transfer with an escort in a private vehicle
Chartered Helicopter flight to Mt. Everest Base Camp/Kalapatthar
All government tax
Sightseeing as per itinerary
Sagarmatha National Park fees
All government and local taxes as applicable
---
What's Not Included ?
Nepal Visa - (Cost- US$- 25 for 15 days & $- 40 for 30 days)
Travel insurance
A cost incurred during an emergency
Breakfast at Hotel Everest View at Syangboche
Anything not mentioned in "Service Includes"
---
Useful Information
Passport and Visas:
First, be sure you have a valid passport with at least 6 months validity from return date. You can obtain visas for Nepal
from the Nepalese Consulate in your country or upon arrival in Kathmandu Airport. Nepalese visas cost USD 25 for 15 days
and USD 40 for 30 days till date.
Get the required visa for Nepal.
You can get a Nepal visa prior to arrival from the Nepalese Embassy in your home country. Likewise, you can easily get an up
on arrival visa at Kathmandu airport and other different borders from Nepal. This is for those who travel from India and
Tibet. For more information and download please visit Nepal Visa Information
Bring Official Papers
Some of the required official documents are your valid passport, 4 extra passports sized photographs (for trekking permits),
travel insurance, airline tickets, and luggage tags. Visas can be obtained upon entry into Nepal. For detail information, we
request you to visit our visa page.
Money & Credit card Info
We find that most of the credit card, master and visa card is blocked from your card provider. It may be because of a
security reason. It, sometimes, may bring you in a problematic situation that you can't get money from ATMs and that you find
difficult to pay for your treks and tour. To find yourself free from this problem, you can call your card provider
before you travel to Nepal and inform there that you are traveling to Nepal. Ensure them to give the authorization for the
payment. In Nepal, you have to pay 3.5 % credit card commission s per Nepal Bank rules, on top of your payable amount for
the trek cost. So, please be sure that you bring some cash in USD to pay us. Likewise, be sure you have brought some small
amount for your daily expenses as well as for those items which are not included in our cost. We request you not to change
money in the Airport. The exchange rate is very low there. Our office provides you with the facility to change your money. Or,
you can take help from Money Changers in Thamel
Travel Insurance:
Our clients must have a comprehensive travel insurance package. Their insurance must cover against medical, personal
accident, emergency evacuation, trip cancellation, lost of gears, natural calamity, theft of or damage to baggage etc.
Who can trek?
No special degree of fitness is required and that there is no age barrier. However, in the areas over 3000m altitude, extra
care should be taken. One can trek who have strong legs and the spirit for adventure to explore the exotic will enjoy the
thrills of trekking in the hills of Nepal. Normally, for weary trekkers, we have a list of short, easy and exotic treks and
for the experienced trekkers, we offer a longer trek with lots of excitement and adventure. We encourage all men and women,
families, students and professionals around the world to enjoy the enchanting trekking in Nepal. You can join us as an
individual team member or with your own group. We commit to arrange the best trekking that delights you in the Nepal
Himalayas. If you can have fun walking for 3-6 hours up and down hills to Nepal, pack your luggage and join us for an
exhilarating and unforgettable journey. All the necessary things for your trekking will be arranged by us. What you can do
is to enjoy the beautiful scenery and magnificent view of Nepal Himalayas.
Clothing and Equipment for Traveling in Nepal
Trekking in the Himalayas needs to the arrangement of equipment as you have to find yourself comfortable at higher altitude. The
basic clothing item that you are expected to be prepared with are well described here. Remember that excess baggage is
likely to be a burden for yourself and your supporting staff. "Pack light, but pack right", is our motto. This will allow
you to enjoy a comfortable journey with your energies and enthusiastic zeal focused on the exploration of this enchanting
Nepal scenic beauty. Please visit here for the Clothing and Equipment list
Buying and Renting Equipment in Kathmandu
It is not really necessary to spend a large amount of money buying extra equipment and clothing prior to your trip. It is
because most of the trekking equipment can be hired from many adventure shops within Kathmandu. Most of the gear is locally
manufactured (hence a lot cheaper). Some Chinese gear is likely to be more expensive but qualitative. Sleeping bag and
down jacket are easily rented. Each item can be rented for less than USD 1, for a day. You have to manage other items
buying them yourself. However, these items are more likely to be cheaper than those in your hometown. We will arrange all
the necessary items you need on the second day of your arrival.
Vaccination for Nepal
All travelers should consult with their physician or update on vaccination requirements before travel. (Your doctor or
the health-care provider will determine what you will need, depending on factors such as your health and immunization history,
areas of the country you will be visiting, and planned activities)
For traveling to Nepal; we recommend you to take vaccination of Polio, Tetanus, Typhoid, Hepatitis A, Hepatitis B, Rabies
etc, it is not really must but recommended.
How to Book
While you chose which trip you wanted to go with, contact us to our head office Thamel Kathmandu Nepal by mail or phone,
email is more easy and clear options, as soon as we get your email or call we will process for your booking.
We need 20% booking amount to confirm your booking, the payment can be made through the Bank transfer, Credit card payment
(Master/Visa card ) or through online money transfers also Money Gram, Western Unions or others. After we get the 20%
the amount we will confirm your booking and you will get the official booking and payment receipt. The final balance for the
tour will be paid upon arrival in Kathmandu.
---
For any queries !
Please use the below address to call us or mail us
---
Everest Base Camp Heli Tour Departure dates and price
Given below are the departure dates available for online booking. If the given date is not favorable then please contact us and we will happily customize your trip on dates more appropriate for you.
| Start Date | Trip Cost | Availability | Booking |
| --- | --- | --- | --- |
| Start Date | Trip Cost | Availability | Booking |
| --- | --- | --- | --- |
---
Route Map
---
Reviews
Everest Base Camp Helicopter Tour
I've just returned from a terrific helicopter tour to Everest base camp. It was a fantastic adventure. Because a private excursion was out of my budget, I scheduled a group joining helicopter tour. I appreciated the companionship of the other flying passengers. While waiting for the aircraft, we had a great time chatting and sharing a delicious breakfast at Hotel Everest View.
- Norman J. (
)
Incredible Experience !!!
This is a great opportunity for non-mountaineers to get up close and personal with the Himalayas, including Everest. You'd have the most amazing day of your life.
- Beverly J. (
)
Trekking to Gokyo Lake and Renjo La Pass is one of Nepal's top treks.
I recently completed a trekking trip in Nepal with Alpha Adventure Treks.
I visited the Everest region (Gokyo Lake and Renjo La Pass); they have a great guide and a great porter; I enjoy their employees (they are extremely friendly and smiling during the trip); their service is excellent, and the guide provides us with a wealth of information about Nepal and the surrounding area. Personally, I'm overjoyed that I chose this trekking company for my Nepal vacation.
- Peter K. (
)
A most memorable adventure in Nepal
Joey, our Kathmandu contact, was wonderful from our home in Australia!
He was always willing to assist us with our (many) queries throughout the road. We couldn't be happier with everything that was provided, from the accommodations and schedule to connecting us with a city tour and our incredible trekking guide.
- Tim A. (
)
Highly Recommended !!!
A terrific experience with a knowledgable and articulate guide who will take you on a comfortable and detailed tour of the attractions. The guide did not rush us or put us under any strain at any of the four stops. It was unquestionably the highlight of our trip to Kathmandu. Strongly suggested!!
- Robert Jr. (
)
Himalaya without the pesky walking!
Beautiful tourist spot on the outskirts of Kathmandu with views of the Himalaya from Annapurna to Sagarmatha. For the best chance of clear skies, go early in the morning. A cable car trip provides spectacular views of Kathmandu.
- Chris D. (
)
Best Short Tour of my Life !!!
Alpha Adventure Treks provided the best and most professional service. We went on a Kathmandu and Pokhara tour with them in March 2020, and they had excellent hotels in both Kathmandu and Pokhara. The driver was courteous and helpful, and all pickups and drops were completed on schedule. Alpha Adventures is a game that I recommend to everyone.
- Alvin G. (
)
journey of a life time
Went there with my freinds, Alpha Adventure Team was quick enoough to make all the arrangements on short notice. will definately recomend them and thank you.
- Jim (
)
2%
OFF
USD1147pp
Why Choose Us?
Local Company
Highly Experienced Team
Cost Effective & Affordable
Flexible & Customizable Trips
Authentic & Rewarding Experience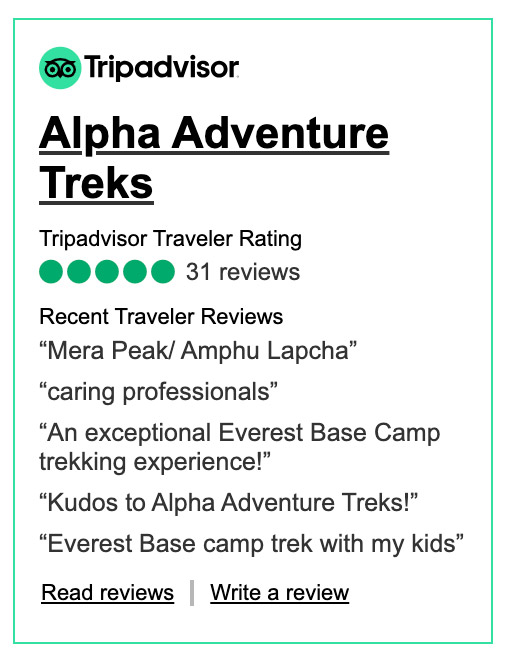 For any queries !
Please use the below address to call us or mail us