Accomodation
Basic Mountain Lodges and Tea Houses
Best month
March - May and September - Mid December
Short Mardi Himal Trek 6 Days
Short Mardi Himal Trek is one the best easy short trekking trails in Nepal and as a region of the Annapurna region, there is no doubt about the lack of beautiful mountain views too. This trek allows you to enjoy the wide panorama of Mt Dhaulagiri, Annapurna Massifs, Mt Manaslu, Mt Machhapuchhre, Mt Hiunchuli, Gangapurna, Lumjung Himal, Annapurna IV, and Mardi Himal itself. Within this six days trek, you will be able to enjoy all of the things of popular attractions of Mardi Himal. Along the path, you will walk through numerous traditional settlements, densely forested paths towards the mountains in the North. By following this trial the trekkers will avoid the busy trail and pass through the dense forest of Juniper and Rhododendron and the lovely settlements of Gurung and Tamang people and make their way to the base of Mardi Himal. Your time in the surrounding of Mardi Himal will give you an unforgettable experience. You'll be blessed by the amazing view and trekking experience of this trek.
---
5%
OFF
USD585pp
Why Choose Us?
Local Company
Highly Experienced Team
Cost Effective & Affordable
Flexible & Customizable Trips
Authentic & Rewarding Experience
Short Mardi Himal Trek 6 Days Outline Itinerary
| | |
| --- | --- |
| Day 01: | Drive from Pokhara to Kande and trek to Deurali - Altitude: 2200m | Trek: 4hrs | Meal LD |
| Day 02: | Trek to Forest Camp - Altitude: 2,900m | Trek: 7 hours | Meal: BLD |
| Day 03: | Trek to High Camp - Altitude: 3,150m | Trek: 5-6 hours | Meal: BLD |
| Day 04: | Trek to Mardi Himal Base Camp - Altitude: 4500m | Trek: 5-6 hours | Meal: BLD |
| Day 05: | Trek to Siding village - Altitude: 1,750m) | Trek: 6 hours | Meal: BLD |
| Day 06: | Trek to Lumre and drive to Pokhara | Trek: 3 hours | Drive: 2 hours | Meal: B |
---
Short Mardi Himal Trek 6 Days Detail Itinerary

Expand All

Day 01: Drive from Pokhara to Kande and trek to Deurali - Altitude: 2200m | Trek: 4hrs | Meal LD

After a nicely cooked hot breakfast; we drive an hour to Kande and commence our trek at Kande the elevation of 1770 meters. 1.5 Hours climb up takes to the beautiful hamlet of Australian Camp at the altitude of 2100m. The trail to Australian camp from Kande is up a hill and pleasant easy walk up to Pothana from there, and it is a gradual walk up to Deurali (2200m) about 2 hours where you stay in a tea house lodge for the first night. It is an easy start for the first day.

Day 02: Trek to Forest Camp - Altitude: 2,900m | Trek: 7 hours | Meal: BLD

From Deurali; We leave main Annapurna Sanctuary trail and take an off the beaten trail to Mardi Himal Base Camp to the right side and continue along a quiet trail through a dense forest of oak, maple, hemlock, and rhododendron. Some 4 hours of jungle walk will bring us at the in a clearing of the forest at Forest Camp or also known by the locals as Kokar, here we take a lunch break then we still continue to up to Forest Camp through the forest however as we ascend the vegetation starts to change with more rhododendron and the trees are covered with moss, lichen and tree ferns. At Low Camp, there are now four lodges. You may find it a long and tough day. It is fine for regular fit trekkers, if you are a beginner or moderate trekker then you can split the day and total trek will be 7 days while our pre-set itinerary is 6 days. Overnight in Low Camp

Day 03: Trek to High Camp - Altitude: 3,150m | Trek: 5-6 hours | Meal: BLD

1.5 hours climb through rhododendron forest takes us to Middle camp then to Badal Danda offers a stunning view of Mardi Himal, Annapurna South, Hiuchuli, Gangapurna, Machhapuchhre and Mardi Himal itself. An hour or so above Low Camp the trail breaks out above the tree line and towards the west, there is a good view to Annapurna South and Hiunchuli. The trail continues along the Mardi Himal ridge mainly on the grass with some isolated rhododendron bushes along the way. Look out for the colorful Danphe pheasant on this section of the trail. The lodge at High Camp is larger than lodges at Low Camp and Forest Camp, this one has eight rooms and a separate dining room with heater. The view from the lodge is superb to Annapurna South, Hiunchuli and Machhapuchhre (Fishtail).

Day 04: Trek to Mardi Himal Base Camp - Altitude: 4500m | Trek: 5-6 hours | Meal: BLD

The plan for today is to wake early for a sunrise view of the mountains then after an early breakfast walk up the ridge towards Mardi Himal Base Camp. There is a well-established trail through the grass with a couple of steeper sections however overall not too challenging. Look out for the dzokpo (yak/ cow crossbreds) grazing up here as well as Danphe pheasant. In the summer the sheep and goats from lower villages are brought up to graze in this area so you will pass a number of herder's huts along the way. After three hours you should reach Base Camp at the elevation of 4500m this is where one can look into the Annapurna Sanctuary and the panorama view is spectacular looking at the south face of Annapurna and all of the peaks in the Sanctuary as well as Hiunchuli and Machhapuchhre (Fishtail)

Day 05: Trek to Siding village - Altitude: 1,750m) | Trek: 6 hours | Meal: BLD

On the way back we take a different route to complete a circuit, from Low Camp there is a trail that goes down to Siding village rather than going back down Mardi Himal back to Kokar. Siding is a traditional Nepalese village and still very much away from the busier modern tourist treks and it is likely you will stay at a homestay in Siding owned by the person who runs one of the lodges at Low Camp. It is a wonderful cultural experience finding out more about village life and you will probably eat dhal baht in the evening with the family in their kitchen.

Day 06: Trek to Lumre and drive to Pokhara | Trek: 3 hours | Drive: 2 hours | Meal: B

From Siding, you walk out to the road head at Lumre, on the way from Siding you will pass the villages of Kalimati and Ghalel. Kalimati is mainly a Brahmin village with Ghalel and Siding mixed Brahmin and Gurung. At Lumre you will meet jeep organized by our team in advance to drive you back to Pokhara.
---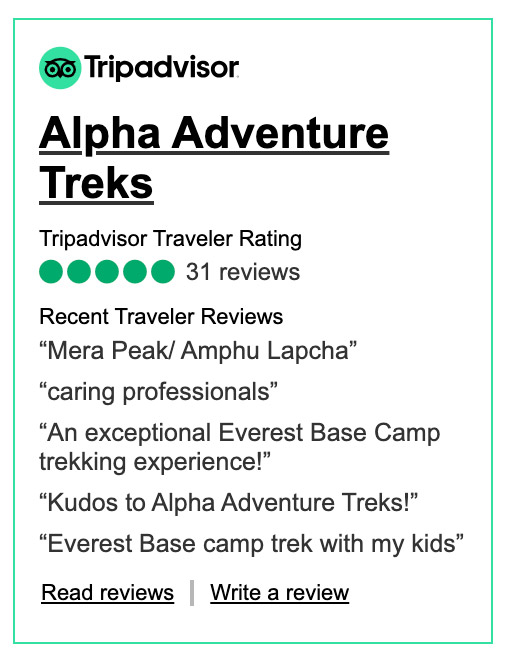 ---
What's Included?
Ground Transportation Pokhara: Pokhara/Kande and Lumre/Pokhara drive in private vehicle
Accommodation during Trek: 5 Nights'basic guesthouse accommodation during the trek in mostly twin-share and occasionally dormitory-style rooms. [Few nights in an attached bathroom in available places]
Meals: 3 Meals per day during the trek (BLD: Breakfast/Lunch/Dinner. Each meal consist of one course of the meal)
Guide: Nepal Government licensed English-speaking trekking guide.
Porter: The required number of local staff and porters to carry your luggage during the trek (2 trekkers: 1 porter)
Permit: Annapurna Conservation Area Project [ACAP] Permit and Trekkers' Information Management Systems [TIMS] Card
Souvenir: Duffle Bag, Trekking T-shirt, Trekking Maps
Equipment: Sleeping Bag and Down Jacket during Trek (upon request)
Food, accommodation, insurance, equipment, and medicine for all staff.
Medical Supply: Exclusive medical kit bag and oximeter carried by trekking guide
All our government taxes, vat, tourist service charges.
Official expenses

---
What's Not Included ?
Nepal Visa - (Cost- US$- 75 for 15 days & $- 90 for 30 days)
Travel insurance
Meals (Lunch and Dinner) at Kathmandu and Pokhara except for Welcome and Farewell Dinner
Cost of personal nature expenses, Beverages (Mineral water or coca-cola), cost of extra meals, snacks, phone bills, Internet, WiFi, laundry, etc.
The cost incurred during the emergency, evacuations
Tips for Guide/porters/driver

---
Useful Information
PASSPORT AND VISA:
All the foreign nationals (except Indian nationals) are required to display Visa while entering Nepal. Nepalese Visa can be obtained either at the Nepalese Embassy of the respective country or can be obtained during your arrival at the International Airport in Kathmandu or from Nepal's border entry point in Kakadvitta, Birgunj, Bhairahawa, Nepalgunj, Gaddachowki on the Nepal-India border and Kodari on the Nepal-China border.
Certain nationals are requested to arrange Visa prior to arrival in Nepal. The listed countries are- Afghanistan, Iraq, Cameroon, Ghana, Somalia, Swaziland, Palestine, Zimbabwe, Nigeria, Ethiopia and Liberia and cannot secure Nepalese Visa on arrival.
VISA FACILITY DURATION FEES
Multiple Entry 15 Days US$ 80 or equivalent convertible currency
Multiple Entry 30 Days US$ 100 or equivalent convertible currency
Multiple Entry 90 Days US$ 175 or equivalent convertible currency
You can also download the VISA form and fill it up. Please go through the link as below: http://www.online.nepalimmigration.gov.np/tourist-visa
MONEY & CREDIT CARD INFO
Most of the credit card, master and visa card is blocked from your card provider. It may be because of a security reason. It, sometimes, may bring you in a problematic situation that you can't get money from ATMs. To find yourself free from this problem, you can call your card provider before you travel to Nepal and inform there that you are traveling to Nepal. Ensure them to give the authorization for the payment. Be sure you have brought some small amount for your daily expenses as well as for those items which are not included in our cost. If you want to exchange money, we provide you with the facility to change your money. Or, you can take help from Money Changers in Thamel.
TRAVEL INSURANCE:
While traveling to Nepal, you are requested to have travel insurance that should cover any comprehensive expenses possible to acquire due to medical issues or accidents. Especially, your travel insurance must protect air ambulance, treatment charges, rescue and evacuation, product cancellation and refundable charges, flight delay, and cancellations.
Insurance Policy:
Traveling in the Himalayas is full of adventurous; hence it is wise to choose a proper insurance policy. While choosing your insurance policy, make sure that it will protect all such unforeseen expenses. You must ensure that the policy you do take provides an adequate level of protection, well familiar with your itinerary and covers you for the activities involved. You must carry proof of insurance (e.g. your insurance certificate) with you on the holiday or send us a scanned copy and it must be issued from your homeland.
RECOMMENDATION:
1. World Nomads
https://www.worldnomads.com/
NOTE:
Please, kindly note, these given references of the insurance company above is only a recommendation, which based on the recommendation of our previous travelers. You could review their update insurance policy by contacting them directly.
VACCINATION FOR NEPAL
Travelers should consult with their physician or update on vaccination requirements before travel. (Your doctor or the health-care provider will determine what you will need, depending on factors such as your health and immunization history, areas of the country you will be visiting, and planned activities). For traveling to Nepal, we recommend you to take vaccination of Polio, Tetanus, Typhoid, Hepatitis A, Hepatitis B, Rabies, etc. However, it is not mandatory but recommended.
ALTITUDE SICKNESS (ACUTE MOUNTAIN SICKNESS)
Altitude sickness, also known as AMS (acute mountain sickness), is caused by a lack of oxygen at high altitudes (normally above 3,000m). It occurs as the result of our bodies' inability to adapt to a sudden increase in altitude. If given time, our bodies will adjust and a gradual ascent will decrease the possibility of altitude sickness.
PREVENTION OF AMS: Go slowly, drink a lot of water, and pay attention to the sensations of your body. If symptoms occur you have climbed too far for the day. Rest at the same altitude will give you time to acclimatize and usually relieve mild symptoms.
MILD SYMPTOMS: Headache, nausea, loss of appetite, and mild shortness of breath with minimal exertion, difficulty sleeping, dizziness or lightheadedness, mild weakness, fatigue, a general unwell feeling.
SERIOUS SYMPTOMS: The inability to recover from shortness of breath with rest, severe persistent headache, low urine output, vomiting, confusion, delirium, loss of coordination. These require immediate descent as acclimatization will not take place at the same altitude.
The key is to trek slowly, carry a light pack and just take it easy. Allow your body the time it needs to acclimatize.
ARRIVAL INSTRUCTION
Upon your arrival at TIA International Airport, our company's representatives are stationed to pick you up. They will be holding your name sign along with the company's name in it. Our office representative will escort you to your hotel in Kathmandu.
---
For any queries !
Please use the below address to call us or mail us
---
Short Mardi Himal Trek 6 Days Departure dates and price
Given below are the departure dates available for online booking. If the given date is not favorable then please contact us and we will happily customize your trip on dates more appropriate for you.
---
Route Map
---
Reviews
Short and Sweet !!!
It's a fantastic spot to visit. There is a new trekking route that is quite interesting. Because it is new and undeveloped, it has one of the densest forests, calm settlements, and a peaceful and less crowded journey all the way to Mardi Himal Base Camp. The views from the High Camp summit of villages like Ghandruk and Chhomrong, Machhapuchre, Huinchuli, and Annapurna South are breathtaking. The trek is a little more difficult than ABC, with a tiny and dangerous trail route. The peaks are really steep. It is, however, well worth the effort. This is a must trek Destination.
- Sunny H. (
)
Great Trek with Amazing Landscape
We had a group of 5, and AAT helped us manage everything from accommodation to duffle bags as we had no past trekking experience. The guide was very helpful and entertaining.
- Sushil K. (
)
Trek to Ama Yangri was Amazing !!
Took a short trek to Helambu Ama Yangri Peak with AAT. Absolutely loved the service and enjoyed the view of Mt Everest and the Many Highest Peaks.
- Yuvi J. (
)
Had a great Time in Mohare Dada
I including the other 4 friends went on a trek to Mohare Dada while returning from Annapurna Base Camp and it was amazing. Loved the service provided by AAT.
- Ron D. (
)
Lovely & Amazing !!
This extremely great and stunning scenery made me fall in love, and my emotion was cool. I really like this place and would recommend it to others. I hope to return soon.
- Yuri B. (
)
Short Trek to Ghandruk !!
We recently returned from a vacation to Nepal, where we participated in a five-day Ghandruk trek with Alpha Adventure Treks. They contributed to the success of our trip by offering a secure and trustworthy platform via which we could connect with a fantastic team, make secure payments, and communicate efficiently before, during, and after the trip. We had a great day seeing the cultural Gurung villages and taking in the breathtaking views of Annapurna. AAT and their staff come highly recommended by us for anyone planning a trip to Nepal.
- Danny K. (
)
Amazing Poon Hill Trek !!
We went on the Poonhill trek as a group. With Alpha Adventure Treks, we experienced the most incredible trek. With a variety of grades, scenery, and vegetation, the walk was enjoyable. We stayed at a lovely teahouse. Overall, I can't say enough good things about this agency. Great journey advice from the office and excellent expert guides.
- Archie J. (
)
Visit to ghalegaun village homestay
We had a fantastic time at Ghalegaun Village Homestay. The locals in the village were quite nice and created a lovely and welcoming atmosphere, as well as excellent food. Our overnight stay at the homestay was equally fantastic and unforgettable.
- Maggie Shah (
)
A fantastic guide and a once-in-a-lifetime adventure
With Yuvi as our guide, we had the most incredible tour. Everything was taken care of by the firm, from hotel pickup to excursions like a sight-seeing flight to Everest. We were in wonderful hands the entire time and felt protected.
- Coco X. (
)
Loved the beauty of the landscape
This is one among Nepal's most well-known trekking destinations. After arriving in Pokhara, it begins either at Naya Pool or at Phedi. There are only a few sites on the planet that have such a diverse range of natural beauty as the Annapurna and Dhaulagiri region.
- Roonie H. (
)
Great Experience of Lifetime
I was awestruck by the daybreak, which was so beautiful that I was able to watch nature at her finest. This journey was beyond anything I could have anticipated. The scenery was breathtaking during the journey. The mountain's eye-catching laps when the sun shone down on it were huge. I could witness the best of nature's handiwork. My companions and I were also fortunate to have Alpha Adventure Treks as our tour organization. Beauty, as they say, is in the eye of the beholder. This location will live on in my mind for the rest of my life.
- Yogi J. (
)
5%
OFF
USD585pp
Why Choose Us?
Local Company
Highly Experienced Team
Cost Effective & Affordable
Flexible & Customizable Trips
Authentic & Rewarding Experience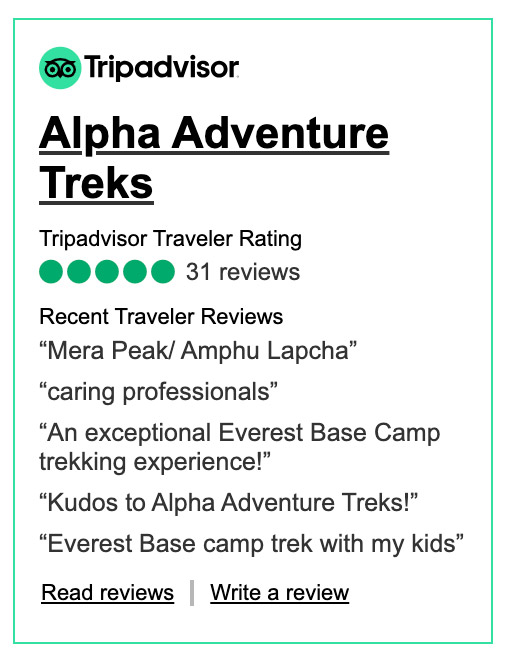 For any queries !
Please use the below address to call us or mail us