Duration
2 Nights & 3 Days
Max Elevation
Accomodation
3 star hotel in Kathmandu/Nagarkot
Best month
All Year Around
Kathmandu and Nagarkot Tour
A 2-night, 3-day Nepal tour package visits Nagarkot, a sunrise viewing point, and the historic city of Kathmandu. This nation has so much to give yet so little to take. People are readily drawn to this enchanting nation and desire to stay there for as long as they can. This tour package is appropriate for both honeymooning couples and esteemed visitors who want to learn about the cultures of Nepal's major towns. Along with the local scenery, this journey also includes breathtaking sunrise and sunset views from the hills of significant cities.
---
5%
OFF
USD269pp
Why Choose Us?
Local Company
Highly Experienced Team
Cost Effective & Affordable
Flexible & Customizable Trips
Authentic & Rewarding Experience
Kathmandu and Nagarkot Tour Outline Itinerary
| | |
| --- | --- |
| Day 01: | Arrival in Kathmandu |
| Day 02: | Kathmandu Sightseeing & Overnight at Nagarkot |
| Day 03: | Departure |
---
Kathmandu and Nagarkot Tour Detail Itinerary

Expand All

Day 01: Arrival in Kathmandu

You will be welcomed by AAT Staff at the Kathmandu airport, who will assist you in getting to the hotel. You can spend the remaining time at leisure exploring the area at your own expense or taking a day off at the hotel. Enjoy a nice evening stay at the hotel as the day comes to a close.

Day 02: Kathmandu Sightseeing & Overnight at Nagarkot

After a quick breakfast at the hotel, the second day of the Nepalese tour begins. We'll go to some of the religious and cultural sites in the Kathmandu Valley. A popular tourist destination located at the summit of a hill is Swayambhunath Temple, also known as the monkey temple. Pagoda-style construction gives this stunning structure a wealth of architectural and Buddhist expertise. The most sacred place in Hinduism, Pashupatinath Temple, will be our next trip. With a quick tour of the neighborhood, visitors will have a basic understanding of Hinduism as well as the background of this temple. The Bouddhanath stupa, another well-designated Buddhist site, will also be our next destination before arriving at the royal palace in Bhaktapur. After touring these locations, we'll move on to Nagarkot for a stunning sunset vista.
Meal: Breakfast

Day 03: End of the Tour

After a light breakfast, guests are transported to the dawn location in the morning to witness the mystic phenomena of light dropping to the Himalayas and its distinct splendor. After a brief breakfast, you will check out of the hotel and be helped to the international airport in Kathmandu, where you will say goodbye and travel to your Home-Sweet-Home. Guests will be guided and shown the large and significant peaks observed, such as Mt. Everest, Mt. Manaslu, and many more.
Meal: Breakfast
---
---
What's Included?
Hotel
Sightseeing
Accommodation on twin sharing basis with breakfast at Hotel
Both way Airport Transfers,
Full-day sightseeing in Kathmandu and Nagarkot
Transportation of Kathmandu-Nagarkot-Kathmandu.
---
What's Not Included ?
Your personal expenses for mineral water, soft beverages, confectionaries, laundries, phone calls, hot drinking water, bar bills showers ,etc.
Internet facility, battery chargers, multi plugs
Medical expenses and trip cancellation.
Any other extended trips and accommodation.
Tips for the guides, porters, and driver as a token of appreciation.
Any other expenses or charges that are not mentioned in the "cost includes" list.
Nepal arrival visa
---
Useful Information
---
For any queries !
Please use the below address to call us or mail us
---
Kathmandu and Nagarkot Tour Departure dates and price
Given below are the departure dates available for online booking. If the given date is not favorable then please contact us and we will happily customize your trip on dates more appropriate for you.
| Start Date | Trip Cost | Availability | Booking |
| --- | --- | --- | --- |
| Start Date | Trip Cost | Availability | Booking |
| --- | --- | --- | --- |
---
Route Map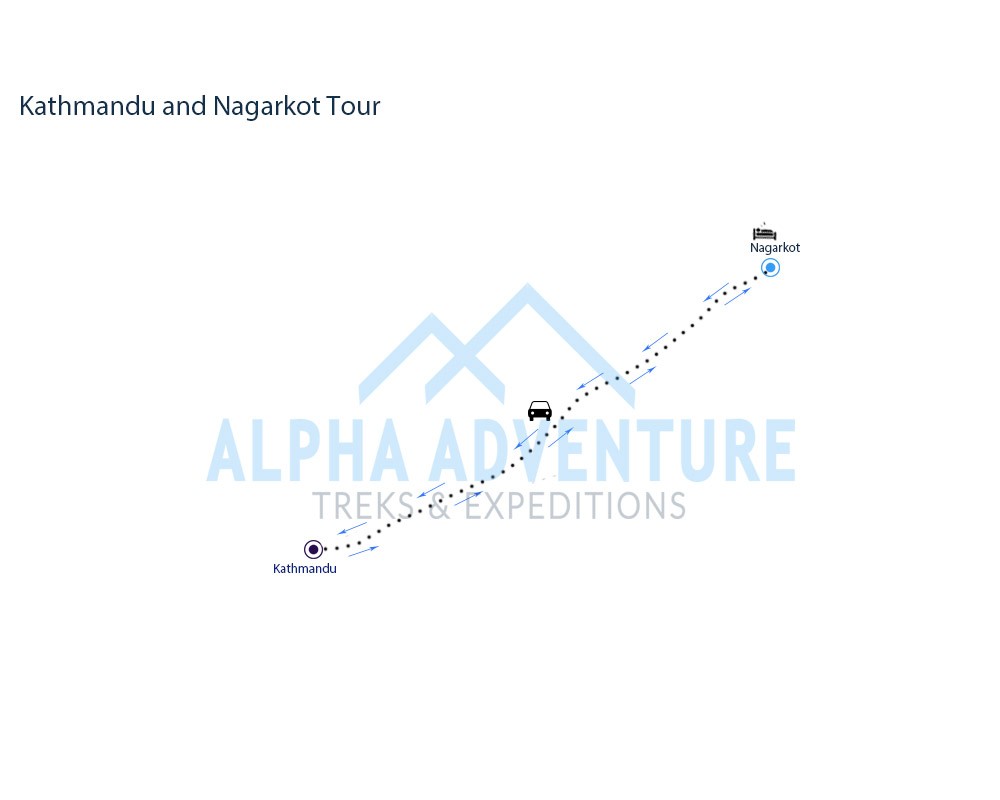 ---
Reviews
Day well Spent in Kathmandu
I and the guys went on a short Kathmandu and Nagarkot day tour and enjoyed it a lot. Had a lot of fun overnight at Nagarkot.
- Raju K. (
)
Pokhara was always my top in list to visit
I and my husband went on a private tour to Kathmandu, Pokhara, and Chitwan last year. We had a great time. The hotels we stayed in were very clean and welcoming.
- Rani G. (
)
Had a wonderful Time !!!
Our family went on a pilgrimage Tour with these guys last year and loved how they took care of us. My mum was not very well on the way and the guide was with her always to make her comfortable and give her company. I would highly Recommend AAT for your next Tour to Nepal.
- Rajiv (
)
Loved it !! Going Again SOON !!
My trip to Nepal was organized by Alpha Adventure Treks. They were quite helpful throughout my trip; I had a fantastic time in Nepal, and my favorite parts were watching the sunrise and riding an elephant.
- Kriti K. (
)
Incredible Experience !!!
This is a great opportunity for non-mountaineers to get up close and personal with the Himalayas, including Everest. You'd have the most amazing day of your life.
- Beverly J. (
)
Amazing Nepal Tour
Alpha Adventure Treks took me on a Nepal excursion. They provided outstanding service throughout my trip; I had a wonderful experience in Nepal, and my favorite parts were watching the sunrise and riding an elephant.
- Roger L. (
)
Highly Recommended !!!
A terrific experience with a knowledgable and articulate guide who will take you on a comfortable and detailed tour of the attractions. The guide did not rush us or put us under any strain at any of the four stops. It was unquestionably the highlight of our trip to Kathmandu. Strongly suggested!!
- Robert Jr. (
)
Himalaya without the pesky walking!
Beautiful tourist spot on the outskirts of Kathmandu with views of the Himalaya from Annapurna to Sagarmatha. For the best chance of clear skies, go early in the morning. A cable car trip provides spectacular views of Kathmandu.
- Chris D. (
)
Best Short Tour of my Life !!!
Alpha Adventure Treks provided the best and most professional service. We went on a Kathmandu and Pokhara tour with them in March 2020, and they had excellent hotels in both Kathmandu and Pokhara. The driver was courteous and helpful, and all pickups and drops were completed on schedule. Alpha Adventures is a game that I recommend to everyone.
- Alvin G. (
)
A perfect first impression of Nepal
We had such a wonderful time in Nepal thanks to Era and crew, who organized a tailor-made trip that combined the beauty of the mountains, the wildness of the jungle, and the fascinating culture within the country. We loved it! They took our wishes into account (some planned, some last-minute!) and made everything possible.
Our guide, Suman, was very patient, attentive, and understanding when our tummies disagreed with the itinerary. We are sorry we were unable to do more with him!
Our driver got us safely (and with considerable skill) to our destinations.
Communication was quick and heartfelt before, during, and afterward.
We'll definitely book with you again in 2024!
- Angie S. (
)
5%
OFF
USD269pp
Why Choose Us?
Local Company
Highly Experienced Team
Cost Effective & Affordable
Flexible & Customizable Trips
Authentic & Rewarding Experience
For any queries !
Please use the below address to call us or mail us