Max Elevation
3860 m/ 12664 ft
Accomodation
Basic Mountain Lodges and Tea Houses
Best month
October- November
Mani Rimdu Festival Trek 12 Days
The Buddhist festival of Mani Rimdu is one of the most important and largest in the Everest region. The Mani Rimdu festival, which lasts three days and is open to the public, takes place in the famous Tengboche monastery, which is located at 3800 meters. For five days, lamas and Sherpas congregate at the monastery to pray for the world's well-being. Demons are extinguished, and the good are rewarded. The monks wear elaborate masks and costumes and perform a series of traditional Lama Dances to portray Buddhism's victory over Bon. The dances show Guru Rinpoche defeating and converting demons, as well as the advent of Buddhism to Tibet. As a result, we tailor this Mani Rimdu festival trek to match with the trek and festival dates in November each year.
Check our Mustang Tiji Festival Trek Package here!
Note: Mani Rimdu Festial for 2023 starts from 28th October and Lasts till 30th of October.
---
5%
OFF
USD1177pp
Why Choose Us?
Local Company
Highly Experienced Team
Cost Effective & Affordable
Flexible & Customizable Trips
Authentic & Rewarding Experience
Mani Rimdu Festival Trek 12 Days Outline Itinerary
| | |
| --- | --- |
| Day 01: | Arrival in Kathmandu and transfer to Hotel. |
| Day 02: | Cultural Tour in Kathmandu and Preparation day | Meal: B |
| Day 03: | Fly to Lukla and trek to Phakding | Altitude: 2840m/ 9317 ft. | Flight: 30 Mins & Trek: 3-4 Hrs | Meal: BLD |
| Day 04: | Trek from Phakding to Namche Bazaar | Altitude: 3440m/ 11286 ft. | Trek: 5-6 Hrs | Meal: BLD |
| Day 05: | Trek from Namche Bazaar to Tengboche | Altitude: 3860m/ 12664 ft. | Trek: 4-5 Hrs | Meal: BLD |
| Day 06: | Mani Rimdu festival at Tengboche Monastery | Meal: BLD |
| Day 07: | Second day at the festival. Witness the Cham - mask dance | Meal: BLD |
| Day 08: | Third day at the festival. Witness the Jinsak - closing ceremony | Meal: BLD |
| Day 09: | Trek back to Namche | Meal: BLD |
| Day 10: | Trek to Lukla from Namche | Meal: BLD |
| Day 11: | Fly Back to Kathmandu | Meal: B |
| Day 12: | Departure from Hotel | Meal: B |
---
Mani Rimdu Festival Trek 12 Days Detail Itinerary

Expand All

Day 01: Arrive in Kathmandu and transfer to Hotel (Altitude: 1350/4428 ft.)

The clear, vast, and white range of the Himalayas shining directly in front of your eyes could be a once-in-a-lifetime vista of Nepal from the window of your jet. You won't be able to blink since the euphoric beauty is so rare. Welcome to Nepal, a vast paradise nestled inside the confines of the small planet Earth. As soon as you exit the airport, our consultant and driver will greet you with a friendly smile on their faces. In a car, you will be escorted to your city hotel. When it comes to checking into the hotel, our representative will take great care. Following your refreshment, you will be briefed about the following day's excursion.
Meal: Dinner

Day 02: Cultural Tour in Kathmandu and Preparation day

Following a delectable breakfast, you will be met by a tour guide who will drive you to UNESCO Heritage sites in the valley, where you will witness the living heritage of Medieval Nepal - Witness Nepal's largest Hindu temple, Pashupatinath, and photograph the solemn moments of a Hindu funeral ceremony at Pashupatinath's Aryaghat. Stroll through the bustling alleyways of Kathmandu's Old Market Asan to Kathmandu Durbar Square, where you can see the Living Goddess Kumari's residence, Nepalese architecture, and incredible wooden carving. A short drive from Kathmandu Durbar Square will take you to the "Swyambhu" mountaintop stupa, which means "self-emerge" and is said to have erupted spontaneously from the enormous lake that formerly covered the Kathmandu valley.
Meal: Breakfast

Day 03: Fly to Lukla and trek to Phakding | Altitude: 2840m/ 9317 ft. | Flight: 30 Mins & Trek: 3-4 Hrs

You'll fly across the snowcapped Himalayas to Lukla, at an altitude of 2900 meters, one of the most exhilarating high altitude airports. The trip will be accompanied by your guides and porters. As a result, the trekking experience begins. The hike begins with a nearly 500-meter descent to the Dudh Koshi River. The trail then heads towards Phakding, following the river's edge. You will arrive at Phakding, where you will spend the first night of your walk, after passing several mani-walls and stones etched with Buddhist prayers.
Meal: Breakfast, Lunch, and Dinner

Day 04: Trek from Phakding to Namche Bazaar | Altitude: 3440m/ 11286 ft. | Trek: 5-6 Hrs

The trek follows the northern trail to Monjo across the Dudh Kosi valley. The hike enters Sagarmatha National Park in Monjo, where you must obtain a Sagarmatha National Park Permit Card. You will arrive at the Sherpa settlement of Namche Bazaar if you continue along the difficult upward journey while savoring the first glimpse of Everest. Spend the night at a nearby teahouse.
Meal: Breakfast, Lunch, and Dinner

Day 05: Trek from Namche Bazaar to Tengboche | Altitude: 3860m/ 12664 ft.

You will walk on the side of the valley above the Dudh Koshi River after a delicious breakfast in Namche. You will drop sharply to a bridge over the river at Phunki Tenga, where you can see a water-driven prayer wheel, passing past several villages and countless tea shops. It's also a great place to stop for lunch and rest before continuing to Tengboche. The gorgeous rhododendron bushes, birds, and magnificent mountains along the trail will make you forget about the exhausting zigzag trail. Mt. Everest, Ama Dablam, Lhotse Shar, Tawache, Kangtega, Thamserku, and Nuptse will all be seen for the first time. When you get to Tengboche, you can visit Khumbu's largest monastery, the Tengboche Monastery.
Meal: Breakfast, Lunch, and Dinner

Day 06: Mani Rimdu festival at Tengboche Monastery

Mani Rimdhu Festival finishes with a three-day public visit to the monastery, which follows a 19-day sequence of sacred activities. This is a period when Sherpas meet in a monastic community to receive blessings from the Guru Rinpoche. This festival also serves as a metaphor for the world's well-being.
The public ceremony begins with Wong. It is held on the full moon day of the Tibetan lunar calendar's tenth month. On this auspicious day, His Holiness Trulshig Rinpoche bestows the empowerment for long life, happiness, and wealth. Everyone who attends the ritual is handed the sacred Mani Rilwu (sacred pills) and Tshereel (long-life pills).
Meal: Breakfast, Lunch, and Dinner

Day 07: Second day at the festival. Witness the Cham - mask dance

On the second day of the public tour, a significant story about the suppression of demons and virtue in ritualistic dances is displayed. Today, the monks portray themselves as deities, dressed in extravagant masks and costumes, and performing a series of ceremonial Lama dances to highlight Buddhism's victory over Bon.
Meal: Breakfast, Lunch, and Dinner

Day 08: Third day at the festival. Witness the Jinsak - closing ceremony

The Fire Puja brings the sacred sequence ceremonial to a close. The day after the dances, it is done in the yard. The Fire Puja is a sacrifice made to Agni (the deity of fire) and the Gods of the Mandala to rid the world of all evil. The harm is pictured melting into the grain and the butter being burned. The sand mandala in the temple is then torn apart, and the sand is offered to the snake gods as a gift (Nagas).
Meal: Breakfast, Lunch, and Dinner

Day 09: Trek back to Namche

After attending the Mani Rimdhu Festival for three days, you will be traveling to Namche today. On the way back, you can see Everest, Kwangde, Tawache, Nuptse, Lhotse, Ama Dablam, Kantega, and Thamserku, among other Himalayan giants. Namche will be refreshing overnight.
Meal: Breakfast, Lunch, and Dinner

Day 10: Trek to Lukla from Namche

Today is the last day of our journey. You'll walk down to Lukla along the Dudh Koshi River. There will be a party with the participation of the Guide, Sherpa, and Porters. They will serve a native beer called "CHANG" and celebrate while learning some traditional Sherpa dance steps.
Meal: Breakfast, Lunch, and Dinner

Day 11: Fly Back to Kathmandu

You'll fly back to Kathmandu on a plane. When you arrive in Kathmandu, you will be transported to your hotel and have the rest of the day to yourself. You can go shopping, send a message, or simply relax at the hotel. We invite you to a farewell supper at an authentic restaurant in the evening. You can tell us about your experience, give us comments, and allow us to make your evening special. Overnight stay at the hotel.
Meal: Breakfast and Dinner

Day 12: Departure from Hotel

You will depart Kathmandu carrying lots of adventurous memories of Everest Life. If you have any plan to extend the trip, grab the optional activities including rafting, paragliding, bungee, or refreshment trip to Pokhara and Chitwan as well.
Meal: Breakfast
---
---
What's Included?
Airport transfer with an escort in a private vehicle
3 nights' accommodation at Tourist Standard Hotel in Kathmandu with breakfast in sharing basis as per group size
Accommodation at well and comfortable Mountain Lodge available en-route during trek as per the itinerary (Few nights' at during trek with attached bathroom/toilets)
English speaking, First Aid and Eco-trained local trekking guide, porters (2:1)
All the expenses for guide and porters along with Insurance
Domestic Airfare for the sector Kathmandu/Lukla/Kathmandu
Sagarmatha National Park Fees and Khumbu Permit
Exclusive medical kit bag, Duffle Bag, Trekking T-shirt, Adventure Certificate
Sleeping Bag and Down Jacket during Trek
All government and local taxes as applicable
---
What's Not Included ?
Dinner and lunch in Kathmandu except for welcome and farewell dinner.
Your personal expenses for mineral water, soft beverages, confectionaries, laundries, phone calls, hot drinking water, bar bills, showers etc.
Internet facility, battery chargers, multi plugs etc.
Extra baggage excess while flying to Lukla.
Extra porter if you require.
Personal trekking equipment.
Your travel insurance that covers Helicopter evacuation.
Medical expenses and trip cancellation.
Any other extended trips and accommodation.
Tips of the guide, porters and driver as a token of appreciation.
Monument entrance fee for sightseeing tour in Kathmandu.
Any other expenses or charges that are not mentioned in "cost includes" list.
Nepal arrival visa.
---
Useful Information
Nepal Visa & Getting into Nepal:
All foreign nationals (except Indian nationals) are required to display visas while entering Nepal. A Nepalese Visa can be obtained either at the Nepalese Embassy of the respective country or can be obtained during your arrival at the International Airport in Kathmandu or from Nepal's border entry point. However, certain nationals are requested to arrange Visa prior to arrival in Nepal. The listed countries are- Afghanistan, Iraq, Cameroon, Ghana, Somalia, Swaziland, Palestine, Zimbabwe, Nigeria, Ethiopia, and Liberia, and cannot secure Nepalese Visa on arrival.
Requirements: Traveler should have a valid passport for at least six months, recent digital photos (size: 1.5" x 1.5") and Visa fees (either US$ or equivalent) mentioned as below:
Visa Facility Duration Fee
Multiple entry 15 days US$ 25 or equivalent Nepalese currency
Multiple entry 30 days US$ 40 or equivalent Nepalese currency
Multiple entry 90 days US$ 100 or equivalent Nepalese currency
You can also download the VISA form and fill up. Please go through the link below:
http://www.online.nepalimmigration.gov.np/tourist-visa
Group Size:
For the group, we normally run with a minimum of 2 people to a maximum of 10 in our published group departure program. However, there is no barrier to a private trip. We can run a trip for a single person and even more than 10 in a group. Normally for a group, we provide 1 main guide, 1 assistance guide along 1 porter for every 2 trekkers. Moreover, for every additional 2 trekkers, 1 more assistance and a porter will be provided making a team combination as follows:
Minimum to 2 PAX: 1 Guide and 1 porter
4-6 PAX: 1 guide, 1 assistance guide, and 3 porter
7-10 PAX: 1 guide, 2 assistance guides, and 4/5 Porter
Meals and Accommodation
During your stay in Kathmandu, we accommodate you in a 3-star category hotel in a comfortable and relaxing environment. Breakfast is included with room accommodation. Normally, based on your group size, you will be accommodated on a twin and triple sharing basis. Likewise, in case of a single room stay in a group, you will require to pay a single supplement charge mentioned in our trip cost. Also, if you wish to upgrade hotel accommodation, we can accommodate you in the respective hotels with a surcharge. On your arrival in Kathmandu and a day before your departure for the homeland, we Treks Planner Nepal Team will invite you for a Welcome and Farewell dinner. You will be taken to an authentic restaurant serving Nepali Cuisine with some cultural Dance Show. For your other day's meals, you can get hygienic restaurants providing verities of tastes including continental, Chinese, Italian, Nepalese, and many more.
Similarly, for your stay during the trek, we shall accommodate you in a local lodge available en-route. Normally, the rooms are basic and on a twin-sharing basis. Some lodges offer shower systems and hot water. For meals, you will be served sufficient hygienic food. Our service includes a full board meal (Breakfast, Lunch, Dinner, and Tea/Coffee) based on the lodge menu. Normally, for breakfast; porridge, cereals, toast or chapattis, omelets, and a range of hot drinks are served. Likewise for Lunch and Dinner; you can taste some Nepalese food (esp. rice, lentils, and curry), Sherpa food, Indian food, Italian Spaghetti, noodles, potatoes, even Pizza in some areas. It is obvious that you will receive fresh and organic food in the Himalayas of Nepal. Your breakfast and dinner will be served in a lodge where you stay and lunch on the way during the trek.
Travel Insurance
While traveling to Nepal, you are requested to have travel insurance that should cover any comprehensive expenses possible to acquire due to medical issues or accidents. Especially, your travel insurance must protect air ambulance, treatment charges, rescue and evacuation, product cancellation and refundable charges, flight delay, and cancellations. We suggest you bring your travel insurance certificate or send us scan copy and required to issue from your homeland and we do not arrange or sell insurance.
Traveling in the Himalayas is full of adventure; hence it is wise to choose a proper insurance policy. While choosing your insurance policy, make sure that it will protect all such unforeseen expenses. Your insurer should be well familiar with the itinerary that you have booked and must have agreed to cover all activities being undertaken during the trip. Meantime, it is not compulsory that all the assigned trips are facilities with Heli-rescue. You will not require heli rescue insurance for Tibet Tour as it is not possible to provide such a facility.
Vaccination
It is better to follow the precaution given by the World Health Organization and other international health-related institutions that recommend having vaccines before traveling to Nepal to prevent a certain fatal illness. If possible, we suggest you bring your medical certificate however, it is not required to show but for safety. The recommended vaccines are polio, Diphtheria, Tetanus, typhoid, yellow fever, hepatitis A/B, Influenza (Flu), Japanese encephalitis, and Tuberculosis. Meantime, it is better to consult your professional doctor about your travel and he might recommend you properly.
You can also take the suggestion of local travelers who have traveled to Nepal before and know more about the required precautions. Please note that the protection that can be gained from vaccines varies from 50% to almost 100%. So remember that even if you have taken a vaccine you might still get the disease, although you will have greatly reduced your chances of getting ill.
Guide and Trip Safety
Once, you confirm your trip, it is our responsibility to make your trip wonderful without creating any difficulties. Hence, we have prepared our itinerary in such a way that it will properly acclimatize you. Also, we request you in advance to have regular exercises and make habits to walk on a daily basis. Similarly, during the trek, you will be fully guided by our professional trekking guides and supporting team. They are properly trained in regards to safety and first aid. Even, we have every set up in case of emergencies such as high-altitude medicine and Gamow Bag (High altitude Chamber bag) - will charge an additional cost. Please note High altitude Chamber Bag is used to provide heat to your body and it is available at a certain cost. Moreover, to let you be familiar with altitude, you are suggested to walk slow and steady and ensure proper acclimatization.
For trekking, we provide a local experienced guide speaking fluent English and familiar with the local routes, landscape, flora, fauna as well as culture, and tradition of certain areas and let you feel comfortable. We do not encourage child labor, hence, our porter will be above 16 years that are living in the Himalayas of Nepal; as well as carries only 20-22 kg weight per porter. Normally, the guide and support teams are selected with proper analysis of their experience, leadership skills, and personal aptitude. Our guides are well familiar with different societies of all caste and customs along the trail and share the insight culture with you that is not even noted in the guidebook. To make our staffs more fluent and experienced, we consistently provide training. They have been participating in special training programs like Trekking guide training, Rock climbing, Ice climbing, Intensive Wilderness First Aid, and many more that have been certified and approved by Nepal Government.
Health and Fitness
While Trekking in the Himalayas of Nepal, you will be hiking up in high altitude, hence slow and steady is the main concern that helps you to acclimatize properly with the altitude. During trekking, you will be required to walk for 5-6 hours on average. If you are planning to trek in Nepal, make sure that you are in good shape and fitness, and consult your doctor or general physicians about your health. You should be physically and mentally prepared. Before commencing a trek, we recommend you to do some regular exercises, make habits to use stairs than an elevator that makes your knees strong, and, if possible, join some aerobics, gyms and make sure about your good health.
If you are used to these habits, you will definitely walk in the Himalayas of Nepal. Sincere preparation and strong determination for the trip are very important for making your trip a wonderful memory of your life. It is not compulsory to have any previous experience. Follow the guidance and enjoy the trip.
Best Season to Trek in Nepal
While traveling to Nepal, it is wise to know about the climatic season. Normally, the Trekking season is categorized into 4 different climatic seasons:
Spring (March, April, May):
During this time, a temperature is mildly warm in low lands while moderate in higher altitudes with plenty of opportunities to have astonishing views of the mountains and landscape. At this time, the blossom flowers especially the national flower of Nepal – rhododendron decorate the ascending altitudes with their generous color and beauty. Even the High altitude lodges get opened and get occupied with the mountain lovers.
Summer (June, July, and August):
This is also the monsoon season in Nepal. At this time, the weather is hot and wet at times. It rains almost every day with occasional thunderstorms in the evening. The rain spreads the pleasantness around with lush green vegetation. If you are planning to trek in this season, we suggest choosing rain-shaded areas of Nepal. Even, if you do not mind the rain, and want to trek in this season, you should compulsorily bring an umbrella, poncho, proper waterproof hiking boots, windproof jackets, baggage wrap, and raincoat as well as a required insect repellent. Likewise, the reward of this month is the view of the lush green valley captured by small flowers. It is a wonderful time to observe the monsoon cycle of agriculture and the traditional life of Nepalese people.
Autumn (September, October, and November):
This time is considered to be the best tourist season in Nepal with the end of summer and the winter to set in. The weather is highly pleasant so are the mountain views. The trekking routes get beautified with the presence of trekkers and expedition groups. Meantime, most of the festivals of Nepalese societies are enthusiastically celebrated at this time.
Winter (December, January, and February):
During this time, the weather is cool and the sky is clear with occasional snowfalls at higher elevations. At this time, trekking in lower elevation is fine, however, at the high altitude, most of the lodges get closed and it will be a bit difficult to cross high altitude passes. This season is good for trekking in lower elevations. The morning and night get extreme cold sometimes reaching a temperature at (-) minus but the days are warm and pleasant.
High Altitude Sickness
At the higher altitude, you will feel a decrease in the availability of oxygen, and shorten in oxygen causes altitude sickness. If a person walks at a high altitude particularly climbs up too quickly, he might suffer from High altitude sickness. Hence, proper rest is required at that altitude. You can cure at right time knowing certain symptoms of Altitude Sickness. Common symptoms are a headache, loss of appetite, tiredness and nausea, vomiting, dizziness, and difficulty in sleeping. The best remedy that locals believe in and take is taking garlic, or ginger in the mouth. Eat dry food and take liquid as much as possible. We recommend Diamox if there are no options. Also, we provide an experienced guide and staff in dealing with the effects of higher altitudes. As they are natives of Nepal, they easily acclimatize and therefore can care for their clients. They are equipped with necessary medical supplies and will assist with basic first aid treatment. We design our tours to ensure clients are ready for high altitude and arrange alternative itineraries for those at risk
Acclimatization
While, trekking in the Himalayas, you will walk in the Ups down trail taking you to an elevation over 2500 m. Hence, you might feel difficult to breathe or your breathing speed up. Hence, it is most important to familiarize yourself with the altitude and let you adjust to the decreased availability of oxygen at high altitudes. Our itinerary is designed with sufficient days to acclimatize. In case of gaining a certain height, there is a rest day when you can explore the area as well as walk to high altitude and sleep at low land. Likewise, you are suggested to walk slowly and carefully without getting any stress. Also, for proper acclimatization, you should care about your eating habits. Don't focus on Junk food and eat as much liquid as possible. Hard drinks are not recommended. The right way to acclimatize properly is to walk high, sleep low.
Diamox (Acetazolamide)
Diamox, mostly recognized drug for altitude sickness prevention and treatment. It allows you to breathe faster so that you metabolize more oxygen, thereby minimizing the symptoms caused by poor oxygenation. This is especially helpful at night when respiratory drive is decreased. While using a Diamox, it is advisable to start taking it 24 hours before you go to altitude and continue for at least five days at a higher altitude. The recommendation of the Himalayan Rescue Association Medical Clinic is 125 mg. twice a day (morning and night). (The standard dose was 250 mg. but their research showed no difference for most people with the lower dose, although some individuals may need 250 mg.) Possible side effects include tingling of the lips and fingertips, blurring of vision, and alteration of taste. These side effects may be reduced with the 125 mg. dose. Side effects subside when the drug is stopped.
It is more appropriate to contact your physician for a prescription. Since Diamox is a sulfonamide drug, people who are allergic to sulfa drugs should not take Diamox. Diamox has also been known to cause severe allergic reactions in people with no previous history of Diamox or sulfa allergies. Frank Hubbell of SOLO recommends a trial course of the drug before going to a remote location where a severe allergic reaction could prove difficult to treat. Highly recommended to take a trial course before going to a remote location where a severe allergic reaction could prove difficult to treat if it occurred.
Alternative Drugs:
Dexamethasone (a steroid) is also a prescribed drug that decreases brain and other swelling reversing the effects of AMS. The dose is typically 4 mg twice a day for a few days starting with the ascent. This prevents most of the symptoms of altitude illness from developing.
ADVICE:
Dexamethasone is a powerful drug and should be used with caution and only on the advice of a physician and should only be used to aid acclimatization by sufficiently qualified persons or those with the necessary experience of its use.
NOTE:
It is more advisable to take drugs taking proper suggestions from Personal Physicians and in case there are no options. In the Himalayas of Nepal, the mountain dwellers believe in taking some garlic or ginger along with Red Pepper to produce heat for fast breathing.
---
For any queries !
Please use the below address to call us or mail us
---
Mani Rimdu Festival Trek 12 Days Departure dates and price
Given below are the departure dates available for online booking. If the given date is not favorable then please contact us and we will happily customize your trip on dates more appropriate for you.
| Start Date | Trip Cost | Availability | Booking |
| --- | --- | --- | --- |
| Start Date | Trip Cost | Availability | Booking |
| --- | --- | --- | --- |
---
Route Map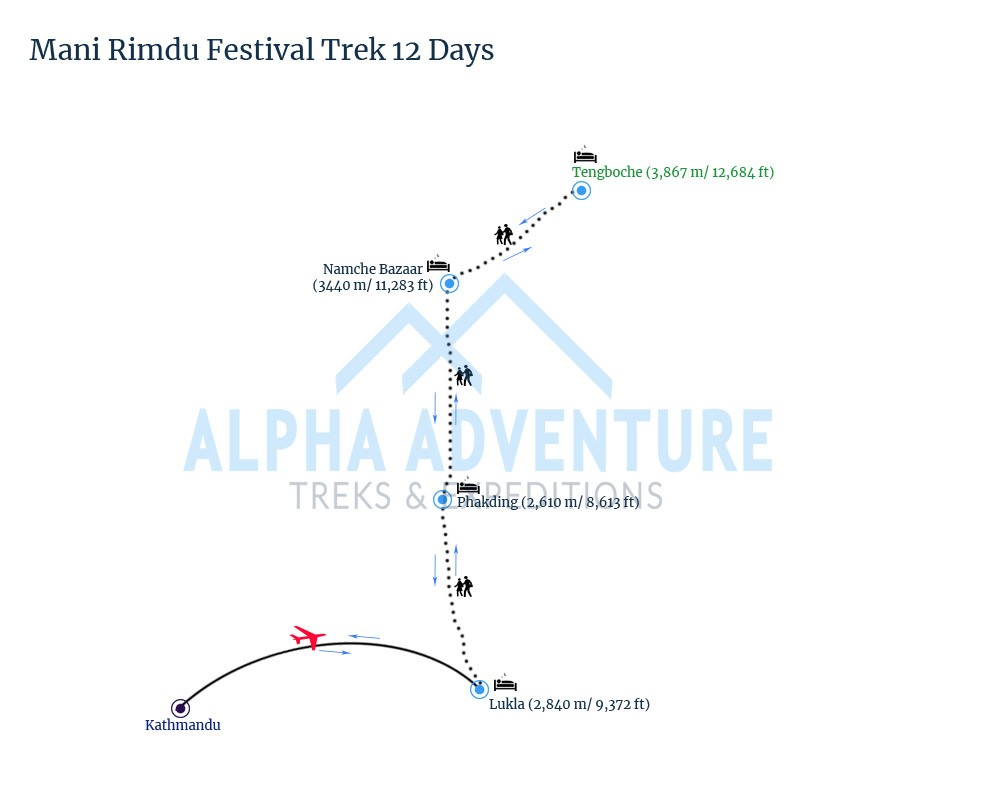 ---
Reviews
Great Trip, Great Festival
Had really great time traveling with Alpha Adventure Treks to Mani Rimdu Festival. The guide was super friendly and helpful. Highly Recommended !!!
- Jack R. (
)
Had a wonderful time !!!
Great chance to experience Tiji Festival ans was really amazed observing their dress culture and custom. Enjoyed their dance and local cousine... !!!
- Thomas J. (
)
5%
OFF
USD1177pp
Why Choose Us?
Local Company
Highly Experienced Team
Cost Effective & Affordable
Flexible & Customizable Trips
Authentic & Rewarding Experience
For any queries !
Please use the below address to call us or mail us