Max Elevation
2380 m/7808 ft.
Accomodation
Basic Mountain Lodges and Tea Houses
Best month
March - May and September - Mid December
Tamang Heritage Treks 10 Days
Tamang Heritage Treks (10 Days) is an amazing full-package Himalayan adventure with wonderful mountains and adventurous trekking experience where you can also firsthand experience Tamang culture and tradition. Tamang is an ethnic group considered to be migrated from Burma by means of Tibet during the seventh/eighth hundreds of years, and now mainly settled in the lap of Langtang range. Tamang originates from two words in the Tibetan language ("Ta" which signifies Horse and "Mang" which signifies Warrior). The warm hospitality of Briddim and getting together with the host family while enjoying local food will obviously make your trip amazing and memorable. Reaching Tamang hamlets will let you experience the isolated lifestyle, Tibetan culture, festivals, unique architecture, and the local Syabru dance with a background of many beautiful mountains.
Tamang Heritage Trek is the best escape from the hustle and bustle of city life and your busy tiresome schedule spends some time with nature exploring the numerous hidden beauties that this trekking trail holds. The trek shows you the mind-boggling mountain panoramas and tantalizing sunrise views over them. Also, the tranquil trail in the middle of the lush green forests along with the whistle of the river and the chirping sounds of birds make you feel like walking in Heaven. In case you are planning this trip manage your time during the spring and autumn seasons so you could explore some more. This is an amazing trek that is appropriate for family trekking with your grown-up kids, or also with friends.
Check our Helambu Trekking package here!
---
5%
OFF
USD800pp
Why Choose Us?
Local Company
Highly Experienced Team
Cost Effective & Affordable
Flexible & Customizable Trips
Authentic & Rewarding Experience
Tamang Heritage Treks 10 Days Outline Itinerary
| | | |
| --- | --- | --- |
| Day 01: | Arrival Day in Kathmandu Altitude: 1350/4428 ft. | |
| Day 02: | Cultural Tour of Kathmandu City UNESCO Heritage Sites - Altitude: 1350/4428 ft. Meal: Breakfast | |
| Day 03: | Drive to Syabrubesi - Altitude: 1,420m/4,658ft | Drive: 8/9 hrs. Meal: BLD | |
| Day 04: | Trek to Gatlang - Altitude: 2238m/7342ft | Trek: 5/6 hrs Meal: BLD | |
| Day 05: | Trek to Tatopani - Altitude: 2380m/7808ft. | Trek: 6/7 hrs. Meal: BLD | |
| Day 06: | Trek to Thuman - Altitude: 2238m/7342ft. | Trek: 5/6 hrs. Meal: BLD | |
| Day 07: | Trek to Briddim - Altitude: 2239m/7345ft. | Trek: 5/6 hrs. Meal: BLD | |
| Day 08: | Trek to Syabrubesi - Altitude: 1460m/4790ft. | Trek: 3/4 hrs. Meal: BLD | |
| Day 09: | Drive to Kathmandu - Altitude: 1350m/4428ft. | Trek 8-9 hrs. Meal: B | |
| Day 10: | Departure from Kathmandu - Altitude: 1,300m/4,264 ft. Meal B | |
---
Tamang Heritage Treks 10 Days Detail Itinerary

Expand All

Day 01: Arrival day in Kathmandu - Altitude: 1350/4428 ft.

On your arrival at Kathmandu International Airport, one of our representatives will pick up you and escort you to the hotel as well as help you to check-in at the hotel. After your refreshment, you will be briefed about the next day trip.

Day 02: Cultural Tour of Kathmandu City UNESCO Heritage Sites - Altitude: 1350/4428 ft. Meal: Breakfast

After your delightful breakfast, you will be introduced with a guide and takes you to UNESCO Heritage sites of the valley where you will observe living heritage of Medieval Nepal - Witness the biggest Hindu temple of Nepal, Pashupatinath and capture the sacred moments of Hindu death ritual at Aryaghat in Pashupatinath. Stroll the lively streets of Kathmandu Old Market Asan to Kathmandu Durbar Square and visit the home of The Living Goddess Kumari, Nepalese style of Architecture as well as astonishing wooden carving. A short drive from Kathmandu Durbar Square will take you to a hilltop stupa called as "Swyambhu" meaning "self -emerge" and belief that the hill emerged impulsively from the great lake that once covered Kathmandu valley. Also famous as a Monkey Temple.

Day 03: Drive to Syabrubesi - Altitude: 1,420m/4,658ft | Drive: 8/9 hrs. Meal: BLD

After Breakfast, re-check your baggage and get ready for a long drive to Syabrubesi. Taking a turning to the northern highway to the Trishuli River valley, enjoy the picturesque landscape, mountain scenery and hamlets. Also, catch the magnificent view of Ganesh Himal, Mt. Manaslu and Mt. Kerung of Tibet as well. You will stop at Syabrubesi for your overnight stay at the local lodge.

Day 04: Trek to Gatlang - Altitude: 2238m/7342ft | Trek: 5/6 hrs. Meal: BLD

Today will be the beginning of trekking in the Tamang villages. You will walk on ascending the trail that takes you to the ridge, grasp the fantastic view of the Goljung valley along with the Ganesh Himal and Gosaikunda range. Now, the trail descends to the Goljung, where you can stay for a while and have lunch. Start walking towards the traditional Tamang village on the hillside. On reaching Gotlang, you will receive a warm welcome from the locals. Explore the surrounding village and enjoy local Syabru dance as well. Spend overnight at Gatlang.

Day 05: Trek to Tatopani - Altitude: 2380m/7808ft. | Trek: 6/7 hrs. Meal: BLD

Begins trek with a descent to Thambuchet following the Bhotekoshi River, and en-route, click the magnificent view of the Ganesh Himal and Langtang range. Walking for a while will take you to Chilime Hydropower dam from where you will walk on the uphill trail taking you to Tatopani. It is a place named after a Hot spring that is now collapsed after the devastating earthquake of April 2015. Spend overnight at Tatopani.

Day 06: Trek to Thuman - Altitude: 2238m/7342ft. | Trek: 5/6 hrs. Meal: BLD

Starts trekking after breakfast in a local trail ascending to the open grassland at Nagthali viewing the mesmerizing views of Langtang, Sanjen Kerung and Ganesh Himal. You will continue walking passing Brimdang village, where you can rest for a while. From Nagthali Hill, you will now descend your journey toward another traditional Tamang Village at Thuman. Here, you will observe the interesting lifestyle of locals that are familiar with Tibetan Culture. Spend overnight at Thuman.

Day 07: Trek to Briddim - Altitude: 2239m/7345ft. | Trek: 5/6 hrs. Meal: BLD

Today, you will walk in an easy and ancient trade route to Tibet to the Timure Village. Here, you can see the Historical Rasuwagadi Fort that reminds the mutual relationship of Nepal with Tibet that has existed for the centuries. After spending some time, starts walking to the beautiful hamlets- Briddim. It is a typical Tibetan village ideally located on the lap of the Langtang Himal. Here, you can visit Dukchu Gompa and typical houses made with stones. Also, you can also experience the local life staying with the host family, eating traditional foods and sleeping at their usual clean bed. During your stay, they will offer you their traditional and local foods like plain rice, Tibetan Bread, Syakpa (Sherpa Stew), Potato, Tibetan tea, and a Briddim wine. It is a time to observe the local indoor rituals and cultural practices by participating with locals. Interestingly, in the evening, the locals will perform cultural dance and songs. Spend overnight at Briddim.

Day 08: Trek to Syabrubesi - Altitude: 1460m/4790ft. | Trek: 3/4 hrs. Meal: BLD

It will be a final day walking the Tamang heritage trail. You will walk in the gently descending trail passing through Wangal Village, terraces with a magnificent view of the surroundings. Spend overnight at the local lodge.

Day 09: Drive to Kathmandu - Altitude: 1350m/4428ft. | Trek 8-9 hrs. Meal: B

After breakfast, catch a bus to drive back to Kathmandu. On your arrival in Kathmandu, you will be escorted to the Hotel. Take your time to refresh yourself with hot shower and rest.

Day 10: Departure from Kathmandu - Altitude: 1,300m/4,264 ft. Meal B

It is the last day with us. Our supporting team will take you to the airport for your final departure. We hope to see you again. Additionally, if you have a plan of any adjoining trip, you can let us organize.
---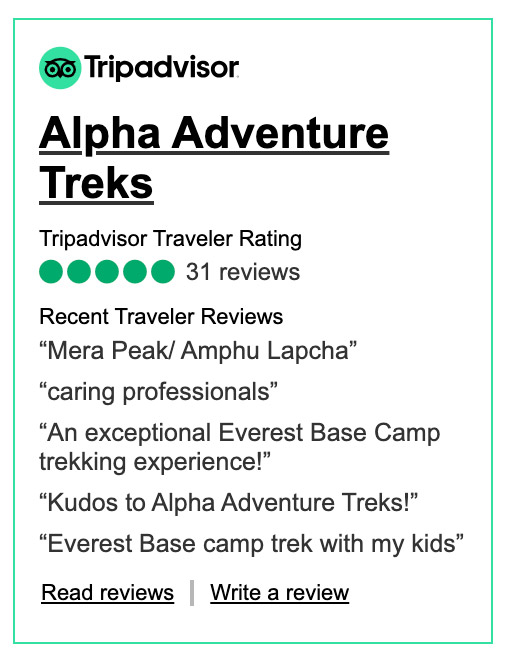 ---
What's Included?
Ground Transportation: Airport: Airport / Hotel / Airport pick up & drop off service by a private vehicle.
Accommodation during Trek: 7 Nights'basic guesthouse accommodation during the trek in mostly twin-share and occasionally dormitory-style rooms. [Few nights in an attached bathroom in available places]
Accommodation in Kathmandu: 2 Nights' accommodation in Kathmandu in twin sharing accommodation with Bed and Breakfast plan
Meals: 3 Meals per day during the trek (BLD: Breakfast/Lunch/Dinner. Each meal consist of one course of the meal)
Guide: Nepal Government licensed English-speaking trekking guide.
Porter: The required number of local staff and porters to carry your luggage during the trek (2 trekkers: 1 porter)
Permit: Langtang National Park and TIMS card permit
Ground Transportation: Kathmandu – Syabrubesi and Dhunche - Kathmandu drive in a sharing vehicle
Souvenir: Duffle Bag, Trekking T-shirt, Trekking Maps
Equipment: Sleeping Bag and Down Jacket during Trek (upon request)
Food, accommodation, insurance, equipment, and medicine for all staff.
Medical Supply: Exclusive medical kit bag and oximeter carried by trekking guide
All our government taxes, vat, tourist service charges.
Official expenses

---
What's Not Included ?
Nepal arrival visa
Your personal expenses for mineral water, soft beverages, confectionaries, laundries, phone calls, hot drinking water, bbar bills showers etc.
Internet facility, battery chargers, multi plugs etc.
Extra baggage excess while flying to Lukla.
Medical expenses and trip cancellation.
Any other extended trips and accommodation.
Tips of ga guides, porters and driver as a token of appreciation.
Any other expenses or charges that are not mentioned in "cost includes" list.

---
Useful Information
PASSPORT AND VISA:
All the foreign nationals (except Indian nationals) are required to display Visa while entering Nepal. Nepalese Visa can be obtained either at the Nepalese Embassy of the respective country or can be obtained during your arrival at the International Airport in Kathmandu or from Nepal's border entry point in Kakadvitta, Birgunj, Bhairahawa, Nepalgunj, Gaddachowki on the Nepal-India border and Kodari on the Nepal-China border.
Certain nationals are requested to arrange Visa prior to arrival in Nepal. The listed countries are- Afghanistan, Iraq, Cameroon, Ghana, Somalia, Swaziland, Palestine, Zimbabwe, Nigeria, Ethiopia and Liberia and cannot secure Nepalese Visa on arrival.
VISA FACILITY DURATION FEES
Multiple Entry 15 Days US$ 80 or equivalent convertible currency
Multiple Entry 30 Days US$ 100 or equivalent convertible currency
Multiple Entry 90 Days US$ 175 or equivalent convertible currency
You can also download the VISA form and fill it up. Please go through the link as below: http://www.online.nepalimmigration.gov.np/tourist-visa
MONEY & CREDIT CARD INFO
Most of the credit card, master and visa card is blocked from your card provider. It may be because of a security reason. It, sometimes, may bring you in a problematic situation that you can't get money from ATMs. To find yourself free from this problem, you can call your card provider before you travel to Nepal and inform there that you are traveling to Nepal. Ensure them to give the authorization for the payment. Be sure you have brought some small amount for your daily expenses as well as for those items which are not included in our cost. If you want to exchange money, we provide you with the facility to change your money. Or, you can take help from Money Changers in Thamel.
TRAVEL INSURANCE:
While traveling to Nepal, you are requested to have travel insurance that should cover any comprehensive expenses possible to acquire due to medical issues or accidents. Especially, your travel insurance must protect air ambulance, treatment charges, rescue and evacuation, product cancellation and refundable charges, flight delay, and cancellations.
Insurance Policy:
Traveling in the Himalayas is full of adventurous; hence it is wise to choose a proper insurance policy. While choosing your insurance policy, make sure that it will protect all such unforeseen expenses. You must ensure that the policy you do take provides an adequate level of protection, well familiar with your itinerary and covers you for the activities involved. You must carry proof of insurance (e.g. your insurance certificate) with you on the holiday or send us a scanned copy and it must be issued from your homeland.
RECOMMENDATION:
1. World Nomads
https://www.worldnomads.com/
NOTE:
Please, kindly note, these given references of the insurance company above is only a recommendation, which based on the recommendation of our previous travelers. You could review their update insurance policy by contacting them directly.
VACCINATION FOR NEPAL
Travelers should consult with their physician or update on vaccination requirements before travel. (Your doctor or the health-care provider will determine what you will need, depending on factors such as your health and immunization history, areas of the country you will be visiting, and planned activities). For traveling to Nepal, we recommend you to take vaccination of Polio, Tetanus, Typhoid, Hepatitis A, Hepatitis B, Rabies, etc. However, it is not mandatory but recommended.
ALTITUDE SICKNESS (ACUTE MOUNTAIN SICKNESS)
Altitude sickness, also known as AMS (acute mountain sickness), is caused by a lack of oxygen at high altitudes (normally above 3,000m). It occurs as the result of our bodies' inability to adapt to a sudden increase in altitude. If given time, our bodies will adjust and a gradual ascent will decrease the possibility of altitude sickness.
PREVENTION OF AMS: Go slowly, drink a lot of water, and pay attention to the sensations of your body. If symptoms occur you have climbed too far for the day. Rest at the same altitude will give you time to acclimatize and usually relieve mild symptoms.
MILD SYMPTOMS: Headache, nausea, loss of appetite, and mild shortness of breath with minimal exertion, difficulty sleeping, dizziness or lightheadedness, mild weakness, fatigue, a general unwell feeling.
SERIOUS SYMPTOMS: The inability to recover from shortness of breath with rest, severe persistent headache, low urine output, vomiting, confusion, delirium, loss of coordination. These require immediate descent as acclimatization will not take place at the same altitude.
The key is to trek slowly, carry a light pack and just take it easy. Allow your body the time it needs to acclimatize.
ARRIVAL INSTRUCTION
Upon your arrival at TIA International Airport, our company's representatives are stationed to pick you up. They will be holding your name sign along with the company's name in it. Our office representative will escort you to your hotel in Kathmandu.
---
For any queries !
Please use the below address to call us or mail us
---
Tamang Heritage Treks 10 Days Departure dates and price
Given below are the departure dates available for online booking. If the given date is not favorable then please contact us and we will happily customize your trip on dates more appropriate for you.
| Start Date | Trip Cost | Availability | Booking |
| --- | --- | --- | --- |
| Start Date | Trip Cost | Availability | Booking |
| --- | --- | --- | --- |
---
Route Map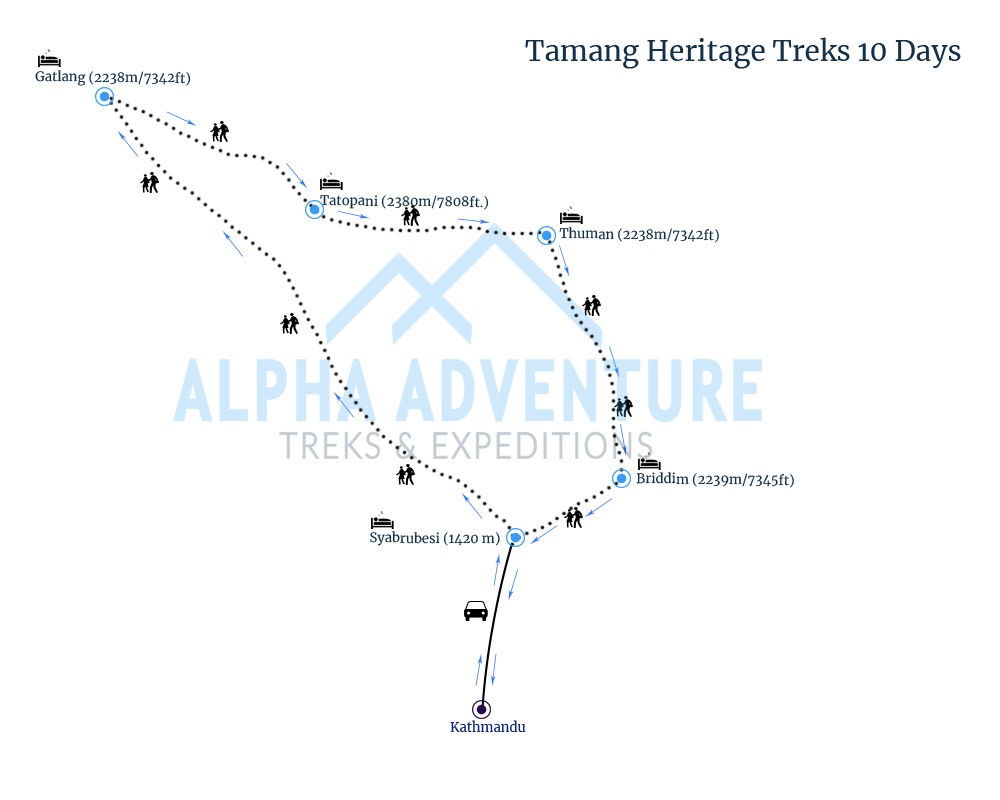 ---
Reviews
Wonderful Experience !!!
Alpha Adventure Treks organized a two-week Tamang Heritage expedition, which I completed. It's one of the most stunning paths I've ever made. The hike was incredible; everything about it was fantastic, especially the ancient traditional houses, people, and their way of life. Don't miss the Nagthali vantage point.
"100% reliable company, friendly and knowledgeable guides with outstanding command of the English language"
- Caroline A. (
)
Helambu Trek, Greater than expected !!!
Alpha Adventure Treks - who has meticulously planned everything! entrusted us with a guide and two porters: wonderful, professional individuals! We are not expert climbers, but we love the mountains, therefore the journey was a little tiring but also easy for us. This is a critical aspect to never crash, even when fatigue sets in! The mountains are breathtaking!
- Laura G. (
)
Best Trekking with Cheap Price
"The highlight of my trip, in my opinion, was ( lol was everything....). I was blown away by the possibility to enjoy such fantastic cuisine and a tour with a knowledgeable guide. I was there with my US Military pals for our dark holiday (Christmas and New Year). Everyone stated it was incredibly inexpensive and unexpected, and that they had a lot of fun in a short amount of time. We are grateful to the Ganesh Himal trek squad "I'll see you as soon as possible with another military unit.
- Brian Mayer (
)
Fantastic Trip
Anyone planning a trip in Nepal should definitely consider Alpha Adventure Treks. Their friendly staff provides a professional, caring, and educational environment. My family and friends thought the company delivered an authentic and stress-free trip, and they were especially grateful for the warmth and support shown to family members who were suffering from altitude sickness. Wonderful memories.
- Stacey M. (
)
Amazing Langtang
Everything went perfectly during my 11-day trek in the Langtang Valley. We hired a guide and porter from the area and had a great time learning about the area. We set out from Syabrubesi on the high road, passing through breathtaking scenery.
All of the Tea Houses where we stayed were clean, friendly, and served delicious cuisine. Even though we bought our own sleeping bags, they all provided blankets. Every day, we were treated to breathtaking sights and breathtaking mountains. The weather would also be sunny every day, with the exception of the afternoons, which would most likely be cloudy. The view from Laurebina Yak is breathtaking, with Himalayan peaks stretching all the way to the Annapurnas. This was a fantastic Trek, and you should go and take part in it.
- Ava (
)
5%
OFF
USD800pp
Why Choose Us?
Local Company
Highly Experienced Team
Cost Effective & Affordable
Flexible & Customizable Trips
Authentic & Rewarding Experience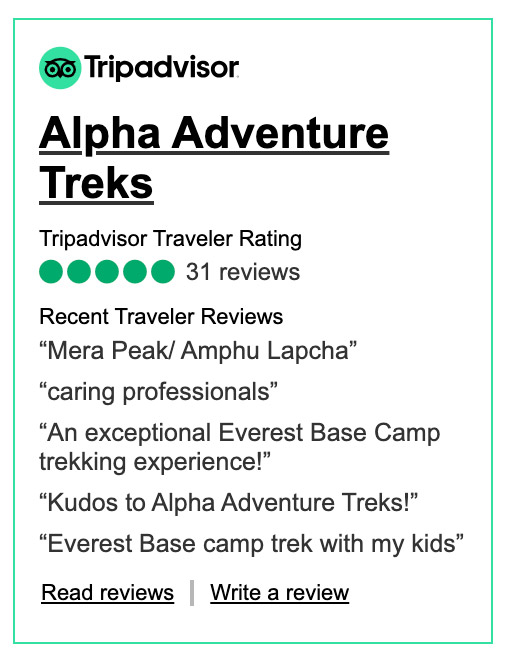 For any queries !
Please use the below address to call us or mail us